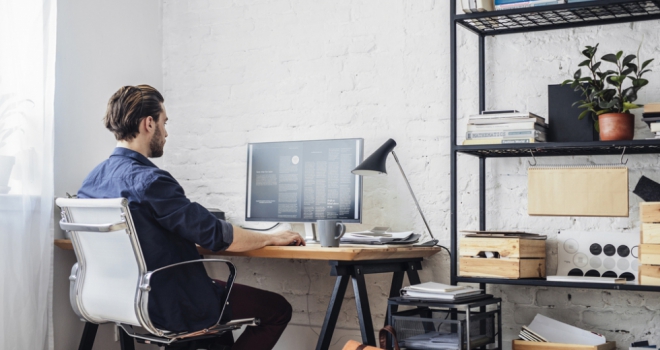 As some begin the slow return to the office, a growing number of workers are planning to set up designated rooms or workspaces at their homes, future-proofing against another lockdown.
Newly released research from Aviva highlights that while 34% of homeworkers use an office inside their property presently, 43% are planning to do so in the future, suggesting people may be adapting rooms or even building extensions.
Similarly, the number of homeworkers operating from converted sheds and outbuildings is expected to increase in the future to 13%, compared with 10% currently.
This latest study gives an insight into exactly where people locate themselves when working from home. It suggests many workers who have been forced to do so due to the pandemic, are making do from tables in rooms designed for another use (48%) sofas and armchairs (22%) and even beds (14%).
In fact, 31% of home-workers aged under 25 admit that they work from their beds on some occasions.
Attitudes to homeworking and the importance of a designated space
ONS data shows that 46.6% of UK people in employment were doing some work at home in April 2020. Within this group, 86% were doing so as a result of the pandemic, equating to roughly 13 million UK workers.
An Aviva study carried out in October/November 2020, found that, on the whole, people viewed working from home as a positive move.
The study - which interviewed almost 1,400 UK workers who were home-based as a result of the pandemic - discovered 48% found it less stressful than being based wholly at another location. They cited a range of benefits including the lack of commuting (57%), more time with family (29%) and even not having to worry about what to wear (42%).
However, in contrast, 19% of people said they found working from home more stressful. Many reasons given by those who didn't enjoy home working, highlight the importance of having a suitable room or designated space in which to concentrate.
A quarter of people in this group said they didn't have a suitable space to work (27%). One in five (19%) were competing for space with other people, while a similar number (18%) said it was too noisy at home.
Gareth Hemming, MD, Personal Lines, Aviva, says: "Flexible working and home-working practices have been around for some time, but they have really come into their own in the last year. Many employees report they have been less stressed and more productive as a result of working from home. They have had the flexibility to work around their personal lives and they have been trusted to work in a way that suits them.
"While home-working is not the choice of every individual, we are likely to see more flexibility as a basic benchmark for the future, with many people working remotely, at least some of the time. Many insurance providers adapted their home products during the pandemic to allow people to work from home without making any changes to their policies, but if customers are unsure about their cover, they should speak to their insurer to check that it is suitable for their circumstances."