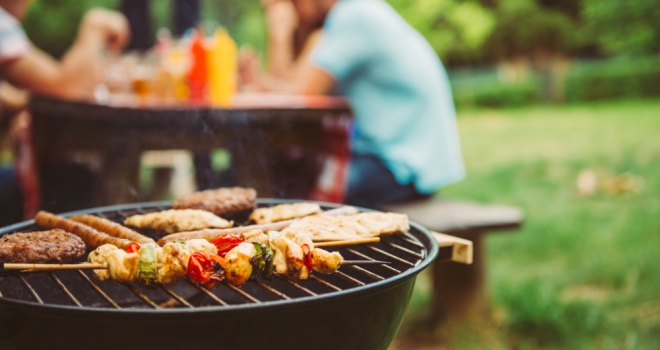 Hurrah! It's finally summer. But don't panic, if you're planning to host a few BBQs over the next few months you still have time to get your garden into shape.
Garden parties and BBQ's are British summer essentials and hosting one with a messy, un-preened garden could be disastrous. Almost a third (29%) of Brits say they will be hosting a party this summer, so for the 78% of us who have a private garden, it must be in tip top condition for entertaining guests.
Research from Tiger Sheds discovered that 47% of Brits update their gardens in June, July and August, so they have revealed some top tips to help and impress guests all summer long.
Lawn loving
Give your lawnmower a maintenance check and get the blades sharpened. When mowing the lawn, ensure that no more than one third of the grass length is removed and that each run up the lawn overlaps the other. A final perimeter of the garden will be sure to add a professional frame to your lawn.
Weed out the weeds
Take out both tall and short weeds with your hands and use a trowel to dig under the roots so they can be pulled out so they don't grow back. No debris should be left anywhere in the garden as this will regenerate and spread so weeds will regrow.
Clear out and clean up
On a sunny day, declutter your shed and get rid of unwanted items by either selling them, scrapping them or donating them to charity. Additional storage can easily be added if a clear out doesn't give you the space you need. Dust and clean your summer house and add fairy lights or other lighting to create a nice environment for friends and family to chill out on summer evenings.
Spruce up essentials
Giving a BBQ grill a good clean with a bit of elbow grease can make it look brand new, and if it's on the way out consider a new one all together. Clean outdoor furniture with a pressure washer or hose and apply a layer of teak or linseed oil to protect and nourish wooden outdoor furniture. Use stylish tablecloths, seat covers and candles to make outdoor areas or summer houses look more homely and cosy.
Paint a new look
Paint touch ups are essential for fences, furniture, sheds and garden rooms as this easy task will make them look brand new. Or, to give the impression of completely new look, consider a new colour and repaint everything fresh. Creative stencils are cheap and can give the garden an artistic look.
Plant life
Keep plants and the garden hydrated to encourage flowering and don't let the soil get too dry. Get ready for hosepipe bans and install some water butts as they are relatively cheap and will save you money in the long run - plants prefer rainwater too so they will love this. Add more hanging baskets and potted flowers to give a splash of colour and give the garden a professional feel.
Give flowers some TLC
De-head your flowers and plants by cutting or pinching off the flower stem or shearing them back completely. Make sure you cut back perennials but ensure they have finished blooming. Spread well-rotted compost over the soil surface, gently work it in, then level off the soil with a rake. Potted flowers can be re-potted in bigger planters, or separated and re-potted into hanging baskets.
Keep an eye on the wildlife
Look out for birds or any other wildlife that have visited your shed as they will have to make their way back out again before you shut them for the night.