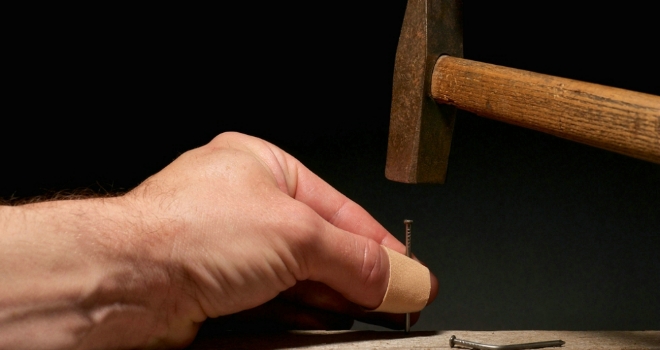 During a lockdown, if your house doesn't smell of freshly baked sourdough bread and you aren't learning the latest TikTok dance, then you're probably painting a wall, they say.
As a nation of hardened DIY enthusiasts, being forced to spend months in your home can only lead to one possible outcome and so, as you would expect, Google searches for DIY topics have increased by 35%, with the nation resuming its interest in home renovations.
However, if Brits take on more than they can handle, they could end up causing thousands of pounds worth of damage to their homes, new research has revealed.
IronmongeryDirect surveyed 1,500 Brits to identify the most common DIY jobs and, in partnership with Holly Herbert, Head of Content at webuyanyhouse.co.uk, calculated the cost of making errors.
Across the 28 most commonly attempted DIY tasks, the average cost of repairing a mistake is a staggering £3,931. Some blunders, however, can lead to bills of tens of thousands of pounds.
Loft conversions are the most expensive projects to get wrong, with botched efforts potentially costing over £35,000 to fix. This is followed by knocking down a wall, where mistakes can set you back around £20,000.
The study found that younger Brits attempt far more DIY than older adults, particularly tasks that are complicated or dangerous. Millennials are more than twice as likely to attempt risky jobs like repairing a boiler (11%) or replacing a fuse box (12%).
Holly says: "Jobs like these should not be done by anyone who isn't a licensed professional. You could cause an explosion while working on a boiler or a fire when replacing a fuse box - both of these could lead to serious injuries, or worse. The risk that comes with these is too high to put a value on."
From the most common DIY jobs, the five that cost the most to repair if things go wrong are:
1: Converting a loft - up to £35,000
Attempted by 5% of UK homeowners
Holly says: "When converting a loft, you may cause more harm than good, especially if you damage the roof or put a foot through the rafters. Replacing the roof could cost you up to £35,000."
2: Knocking down a wall - up to £20,000
Attempted by 10% of UK homeowners
"If you knock down a wall and don't know exactly what you're doing, you run the risk of your property suffering from subsidence, which can cost up to £20,000 to fix. If you try to knock through a supporting wall, you also run the risk of your house collapsing, and losing everything."
3: Replacing a kitchen - up to £10,000
Attempted by 8% of UK homeowners
"Installing a new kitchen can cost around £5,000 depending on the size and materials used. If you damage the worktops, cabinets, and walls while doing so, you may need to replace these. Add in the labour costs and you could double the price of your new kitchen."
4: Replacing a bathroom - up to £10,000
Attempted by 7% of UK homeowners
"Replacing a bathroom can cost you up to £10,000, depending on the damage that you do. If you have to replace the materials that you bought to do the replacement, or caused damage to the plumbing and electrics in the bathroom, this will drive the cost up."
5: Installing cabinets - up to £4,000
Attempted by 18% of UK homeowners
"You may damage both the cabinet and the wall that you're attaching it to, meaning you will need to replace the cabinet, fix the wall, and then pay labour costs for refitting. Depending on the amount and size of the cabinets, this can cost you around £4,000."
Charlie Carlton, Head of Digital at IronmongeryDirect, concludes: "Interest in DIY has never been greater and our research found that nearly nine in ten Brits have attempted some kind of project, but mistakes can be costly. There are significant health and financial risks if you get things wrong, so always hire a professional if you are not fully confident."