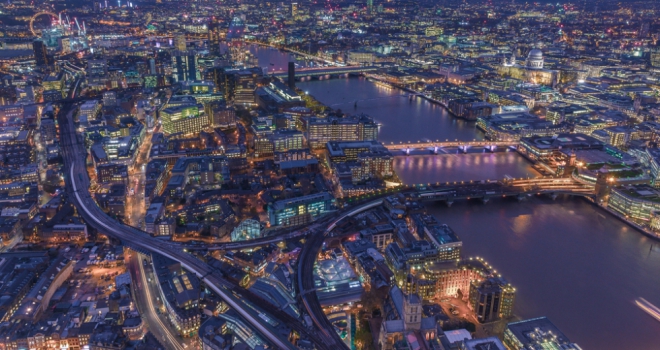 "The fact is that when people live and work in places with key amenities, efficient transit networks and quality green open spaces tailored to human needs, satisfaction and performance increase"
- Jeff Nottage - Turley
The UK is facing a major productivity crisis. Plagued by glacial productivity growth since the financial crisis, official figures from the beginning of 2023 showed that the UK generated just £46.20 of output for every hour worked – compared to £58.88 in the US, £55.83 in Germany and £55.50 in France.
There are myriad reasons for our stagnating productivity - but could the design of our towns and cities be partly to blame?
With over 80% of the UK population living in urban areas, it's time we took a hard look at whether we need to rethink the way in which we design these places.
Urban design and infrastructure choices have a major impact on economic performance, and as we emerge from the pandemic, there is an urgent need to re-examine the form and function of our towns and cities. Things we previously took for granted, like crowded offices and retail-dominated high streets, are no longer guaranteed. Rethinking how we plan, build, and use urban spaces may provide an opportunity to address the productivity gap.
The fact is that when people live and work in places with key amenities, efficient transit networks and quality green open spaces tailored to human needs, satisfaction and performance increase. Positive changes in our built environment can also boost public health, while local communities and businesses flourish better in cities designed with a people-first perspective.
To deliver the productivity gains the UK needs, we must be bold in analysing where current urban planning is falling short and embrace innovative new models to transform our urban centres into engines of national prosperity rather than an anchor tying it down.
The 'Death of the City Office Market'
While the so-called 'death of the high street' has received significant media coverage over the years, the latest trend we should arguably be more conscious of is the seeming 'death of the office market' in our cities. According to Mike Prew, property analyst at investment bank Jefferies, the amount of empty workspace in London currently sits at a 30-year high — with 10% of space vacant in the City and 20% in Canary Wharf.
Historically, anything above 8% would have attracted the label of a 'rental recession'. High-profile examples of these corporate departures include Facebook owner Meta recently paying a record £149m to exit its lease early on its offices at 1 Triton Square, Regent's Park.
This exodus provides an opportunity for us as a nation to rethink how we use office real estate. Buildings could be adapted into mixed-use residential units, echoing the successful regeneration of former industrial buildings. Repurposing dated office buildings could bring more affordable housing into city centres — boosting workforce numbers and cutting down on unproductive commuting times.
In the longer term, less demand for office floorspace could free up innovative thinkers to evolve the way we design these buildings for the better – studies have shown worker satisfaction improves in offices with access to greenspace, daylight, and fresh air. Designing lower-rise structures situated around courtyards and shared spaces could help create engaging, healthier workspaces.
The Overlooked Connection Between Urban Design and Health
The link between our built environment and well-being is well-evidenced but often overlooked by urban planning policy, to the detriment of those living in urban centres. It is worth noting that the number of working days lost because of sickness or injury was an estimated 185.6 million in 2022, a new record high. Additionally, there was a peak of over 2.6 million people not working due to long-term sickness in the UK in July 2023.
Access to nature, infrastructure to support active modes of transport (e.g., cycling, walking, running), and social spaces in urban neighbourhoods have a measurable positive impact on both the physical and mental health of urban dwellers. With healthier, happier workforces shown to be as much as 20% more productive, ensuring urban design takes into account health should be an economic priority.
Delivering this means high-quality, accessible public parks and trails for recreation and active transport links. Where possible, new offices should aim for a biophilic design to increase occupants' connectivity to the outdoors.
With hybrid working patterns here to stay, towns and cities could provide local coworking space and amenities so office workers can split their time between the corporate office and shared workspaces or local cafes — this may help to address the risks of isolation and deteriorating mental health felt by those engaged in hybrid working.
The co-workspace approach is certainly something that should be embraced by the satellite or "commuter towns" around our major cities, many of which have been hardest hit by the decline of retail. Providing local people the opportunity to work in vibrant, social spaces closer to home for part of the week would go a long way to revitalising town centres, improving people's mental health and reducing the unsustainable daily commute.
There is also the opportunity to repurpose vacant space in town centres for "local health hubs" run by either the NHS or other organisations. This has the benefit of bringing healthcare to the heart of the community and ensuring easy and available access. There are examples of this across the country as well as in London.
Adaptable, Multi-Purpose Urban Centres
City centres built around single uses like retail or offices are proving inflexible for our changing world. Post-pandemic, high streets and urban centres must entice leisure visits through more experiential retail, culture, and hospitality. Adaptable, multi-use spaces can help create buzzing, engaging hubs that improve local economies and drive productivity.
Temporary buildings, for example, by their very nature of being temporary can also be a great way of pushing the boundaries of innovative architecture and design in urban areas. We've seen many examples, such as the London Eye, where such buildings eventually become established, permanent and iconic pieces of the urban fabric.
Meanwhile, developments like the regenerated Paintworks in Bristol show how former industrial zones can be reinvented as vibrant mixed-use communities. Flexible spaces allow for pop-ups, events and reconfiguration over time as needs change. Similarly, cities like Amsterdam exemplify this human-centric approach - with neighbourhoods blending residential, commercial, and recreational uses around courtyards, canals, and communal squares.
These initiatives illustrate the potential of what can be achieved when urban design is viewed as a tool to foster well-being and build resilient communities.
Embracing Innovation
Addressing the UK's productivity challenges via enhancement in our design of urban centres requires bold, imaginative thinking and a willingness to embrace new models. The status quo of isolated land use and rigid planning has created unproductive cities that fail to foster well-being and unlock the full economic potential of its dynamic and diverse populace.
We need a people-first approach that sees urban design as a tool for delivering improved health, social connection, and quality of life. Revitalising our towns and cities through this lens is critical to driving the UK's long-term economic growth and uplifting urban communities that feel left behind.
Our towns and cities represent the UK's future economy and global competitiveness. By being bold and creative about urban planning, we can build productive, liveable cities where communities can flourish and meet their full potential.