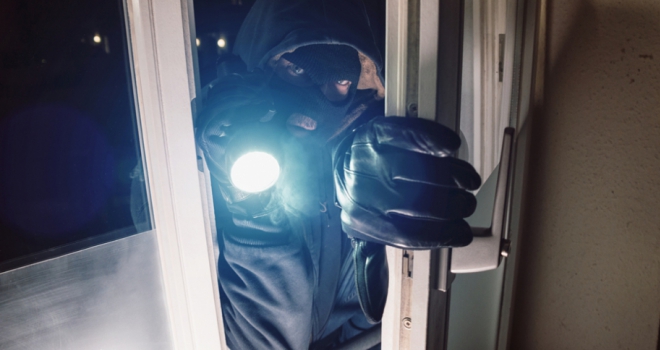 Worrying new data released by ONS has recently revealed that 64% of burglaries in England and Wales occurred while residents were at home and, as the clocks are set to go back in a couple of weeks, now is the perfect time to think about securing your property for the winter.
According to the figures, the proportion of burglaries happening while someone is at the residence has crept up over the last decade, from 57% 10 years ago, with Aviva data from the last two years revealing home theft claims increased by 15% during October and November, compared to the monthly average during 2018-2019.
The figures are particularly concerning as a new Aviva study shows that as many as 26% of homeowners don't lock their doors when they are at home.
ONS statistics reveal that in the year to March 2020, 76% of domestic burglaries in England and Wales were accessed through a door, and in 24% of cases where entry was gained, the door was unlocked.
Shockingly, the Aviva research finds people who have experienced a burglary first-hand are LESS likely to lock their doors when at home than those who haven't. 20% who haven't been burgled don't lock their doors while at home, yet 37% of people who have been burgled are willing to take the risk, alongside 32% who have experienced an attempted burglary.
When it comes to windows, this laid-back approach to security is echoed by nearly half of the population. ONS figures show in the year to March 2020, 20% were accessed through windows. But the Aviva study finds 45% of UK residents leave windows unlocked in unoccupied rooms when they are at home.
Sarah Applegate, Insight and Strategy Lead, Global General Insurance, Aviva, comments:
"We tend to imagine that burglaries happen when everyone is out, but the unfortunate reality is they can take place at any time, whether we're home or not. Most burglaries are opportunistic, so if a door or window is left unlocked, someone can be in and out of a house in just a few seconds. And if we're at home but on another floor or in another room, we may not even be aware of an intruder, until it's too late.
"Our claims data shows that thefts tend to increase during the autumn and winter months, so it's really not worth taking a chance. Simple tasks like locking doors and windows on both homes and outbuildings can significantly reduce the risk of being burgled. We'd urge everyone to get into the habit of locking up, even when at home."
Top security tips for residents while at home
Create a room without a view: Don't leave valuable items on show near windows. Shut curtains or blinds in the evening - or even during the day if you're not in the room.
Light it up: Leaving a light on can help to deter burglars and 34% of UK residents do this even while they are at home. If you're heading to bed early, consider leaving an energy-efficient light on downstairs, or put a lamp on a timer switch so it appears that someone is still awake.
Keep it locked: Lock doors and windows while you are at home. It may seem obvious, but 24% of people don't lock doors while at home and 45% leave windows unlocked in unoccupied rooms, which could allow easy access for criminals.
And lock sheds, garages and outbuildings, particularly if they're not attached to your property as you may not hear or see intruders.
Tidy up your tech: More people working from home is likely to mean more laptops and smartphones on the premises. When you're not using your tech devices, put them away out of sight, in a place which isn't easily accessible.
Stay alert: Be careful when answering your door. According to the latest ONS crime figures, in 7% of cases where a burglar entered a dwelling, they pushed past an occupant to access the property. If you're unsure about opening your door, trust your instincts. Fit a spy-hole, safety chain or video doorbell. These can help you to see who's at your door, without allowing them easy access to your home.
Be vigilant about who's coming and going. Lockdown restrictions have meant more deliveries for many, but keep a watch on who's visiting your home and report any suspicious activity to the police.
Look out for your neighbours: If lockdown restrictions mean you can't visit other houses make use of technology to check they're okay, particularly if they're elderly or vulnerable. Give them a phone call or make use of social messaging groups, or texts.
Involve your pets: Make use of a furry friend (or an imaginary one). A dog can be a good deterrent to burglars – and if you don't have a hound at your home, a simple 'beware of the dog' sign can be off-putting to would-be thieves.