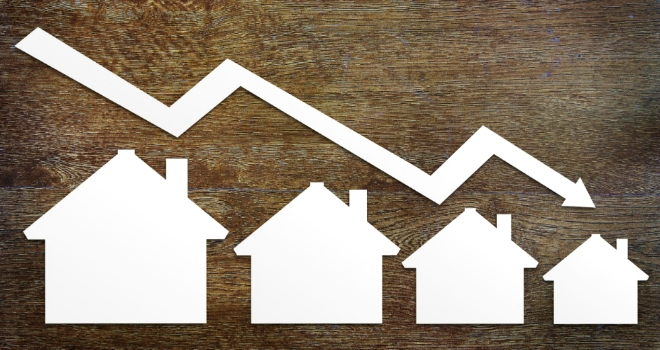 According to the lender, there were 848,857 home sales in England & Wales in 2016, compared to 915,096 in the previous year.
The Lloyds data shows that all regions saw a decrease in sales in 2016 compared to 2015, with the largest falls in Greater London (-20,660 sales, -18%) and the South East (-23,422 sales, -10%). Both East and West Midlands fared the best with just a one percent decline, followed by North West (-2%).
Despite the recent dip in home sales, there has been an improvement compared to five years ago when the market started to recover from the financial crisis. The number of sales in England & Wales as a whole increased by 29% (188,386 sales) from 2011-2016 with the majority of regions seeing increases of between 23% (South East) and 46% (North West). The exception – and the worst performer by some distance - was Greater London with a rise of just 2% in the past five years.
Over 80% of towns experienced a fall in sales in 2016
The majority (82%) of towns in this survey saw a decrease in sales between 2015 and 2016. In Greater London all boroughs experienced a fall in sales.
Despite this, the first-time buyer housing market continues to grow.
Even with the fall in property sales, the first-time buyer housing market continues to grow. In 2006, just over a third (36%) of all house purchases financed by a mortgage were made by first-time buyers. In 2016, this proportion is estimated to have reached almost half (49%), the highest level since 1996.
Andy Mason, mortgage director at Lloyds Bank, had this to say: "The recovery in the housing market has stumbled during the past year with sales declining in all regions. Despite record low interest rates and Government schemes, such as Help to Buy, sales remain significantly below the levels seen at the height of the last housing boom.
The decrease in the amount of people moving home could be caused by movers not being able to find the right home, in the right location or those who don't have enough equity in their current home to put down as a large enough deposit for their next mortgage. Add to this that the average cost of moving home is close to £11,000, with costs in London over £31,000 and these factors make it more challenging for those looking to move home."