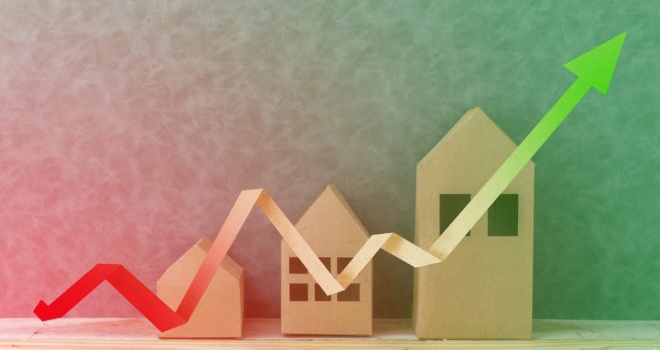 Average UK house prices hit a new high in June and are now 30% higher than the pre-2008 financial crisis, meaning Generation Rent face an even greater uphill struggle on their way to homeownership, according to the latest market analysis from Zoopla.
This morning's data revealed that the average price of a home in June stood at £230,700 - up 5.4% year on year. However, Zoopla believes that prices will start to fall in the near term.
Low stock levels continue to be a serious problem with the number of properties up for sale around 25% lower during the first six months of the year than it was at the same point 12 months ago and compounded further by a rise in demand from house hunters scrambling to beat the stamp duty deadline.
According to the figures, the highest levels of house price growth was seen in the North West (+7.3%) and Yorkshire & the Humber (+6.8%). In London, annual house price growth was 2.3%.
Liverpool saw house prices grow by 8.9% in the past year, Rochdale and Hastings both saw prices rise over 9% during the period, with Manchester seeing prices rise more than 7%.
Grainne Gilmore, head of research at Zoopla, said: "Demand is moderating from record-high levels earlier this year, but remains significantly up from typical levels, signalling that above-average activity levels will continue in the coming months
"Demand for houses is still outstripping demand for flats. To a certain extent this trend will have been augmented by the stamp duty holiday, with bigger savings on offer for larger properties – typically houses.
"But underneath this, there is a continued drumbeat of demand for more space among buyers, both inside and outside, funnelling demand towards houses, resulting in stronger price growth for these properties."
"Overall buyer demand coupled with constrained supply signal that price growth will continue to rise in the coming months, peaking at around six per cent, before falling back to between four per cent to five per cent by the end of 2021."
Chris Hutchinson, CFO of Canopy, said: "House prices continue to rise as the race to beat the stamp duty holiday deadline set buyers into a frenzy last month. While the temporary tax freeze has helped some buyers in their pursuit of homeownership, this was never going to be a long-term solution and barriers to homeownership remain firmly in place."
"Nobody should feel that they are stuck with a lifetime of renting. But with tenants plugging thousands into the rental system each year, this money can feel like a waste. Making rental payments count towards people's credit rating will make it easier and quicker to secure an affordable mortgage when the time is right. Rather than temporary support measures and quick prop ups for first-time buyers, it could make far more difference to Generation Rent if we could have them equipped to buy from the very start of their rental journey."