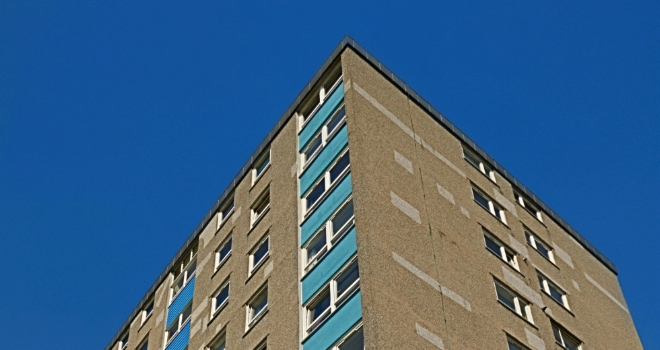 "Nobody should fear for their safety every day or still be living in a property with dangerous cladding, especially after the tragedy of Grenfell."
With up to 56,000 people are still living in properties with the dangerous ACM cladding used on Grenfell Tower, Good Move has revealed which types of cladding are dangerous, how to get it replaced, and how to sell your flat if the cladding is dangerous.
Which cladding is dangerous?
Aluminium Composite Material (ACM) was the cladding used on Grenfell Tower and has now been found to be combustible and incredibly dangerous. The government also has concerns that High Pressure Laminate (HPL), and Metal Composite Materials (MCM) cladding are also very dangerous and could be combustible. Timber cladding also is something to be concerned about, as this can also easily enable fire to spread through a building.
Unfortunately, if you find dangerous cladding on your property, building insurance won't cover the cost to replace it if there is an argument that safety standards weren't breached when the block was built. Even worse, the cost to replace cladding yourself would be anywhere from £20,000 - £90,000.
How do you request the removal of dangerous cladding?
Thankfully, some developers have removed dangerous cladding at their own cost, but there are many that have refused to do so. If this is you, there are a number of steps you can take:
• Get together with other residents and contact the management company to find out exactly when it was established that the wall cladding was combustible.
• Ask the management company to test the building, ideally using an RICS regulated building firm who is accredited by lenders.
• Ask to see a schedule of works from the freeholder or management company, in addition to a specific timescale for removing the defective cladding.
Ultimately, you have the right to request the removal of unsafe cladding, so do follow these steps if you find yourself in the situation.
How do you sell a flat with cladding issues?
If you rent a property and discover cladding issues, it's easy enough for you to terminate the rental agreement and search for a new property. However, it is more complicated for people who own a flat with combustible cladding. The majority of mortgage lenders will require a fire safety report, which will only be issued when cladding is approved, and the building is therefore safe. If the cladding isn't approved, you won't receive a fire safety report which sadly makes a property unmortgageable.
The Government has released a draft form of the Building Safety Bill, which ensures that there will be someone responsible for keeping residents in high rise buildings safe, as well as allowing residents and leaseholders access to vital safety information about their building. A new complaints handling procedure will also be introduced in this Bill. However, this only applies to people living in high-rise buildings - those 18 metres and above - in England.
Nima Ghasri, director of Good Move, commented: "Nobody should fear for their safety every day or still be living in a property with dangerous cladding, especially after the tragedy of Grenfell. We hope that anyone in this position will be able to have their cladding replaced so they can feel protected and safe in their own homes.
"At Good Move, we understand that it is no fault of the person who can't sell their flat due to cladding issues, and understand this must be an incredibly frustrating position to be in. We recently purchased a flat in Leeds city centre from someone who faced the very same issue, so do get in touch with us if you do find yourself looking to sell your flat in this predicament."