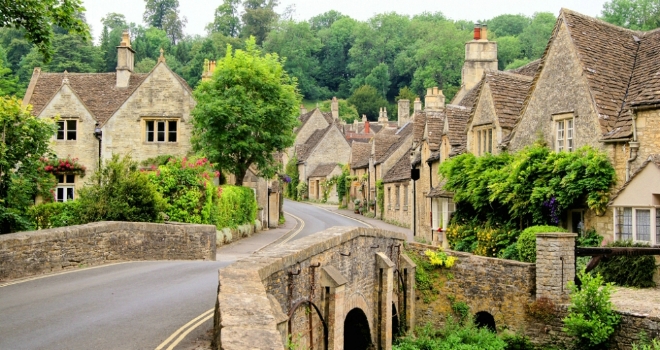 The research shows the parochial property pecking order is still very much in play with manor houses commanding the highest average sale price at £1,427,292, 6.5 times greater than the average UK house price of £218,000. It is also 10% more expensive than the next most expensive English village home, the old English rectory or vicarage, which comes in at an average £1,295,733 (5.9 times greater than the UK average house price).
Cottages, with their quintessential diminutive proportions, are the least expensive of the English village homes analysed by the estate agent with an average sale price of £607,465. These are not bargain basement prices however; a chocolate box cottage is still 2.8 times more expensive than the average UK property, as their traditional features and timeless charm continue to be sought after by buyers.
For those looking to get the best bang for their buck a manor house, the apex of the village, offers the best value for money per square foot of property, at £190 per square foot.
Barn conversions, which are typically very roomy but offer less princely proportions than manors, are the most expensive village home per square foot coming in at £325 per square foot. Once home to a village's voiceless inhabitants, its livestock, carefully restored barns offer inhabitants airy living spaces and often incorporate modern features into the traditional look. Cottages, despite their dinky proportions, aren't far behind the barn conversion with an average value of £320 per square foot.
Nick Leeming, Jackson-Stops & Staff Chairman, comments: "English village living has always been an attractive prospect, with inhabitants benefiting from a real sense of community and features like village greens, pubs, churches and community centres. At the start of this year the Government announced a new wave of Garden Villages, featuring swathes of green spaces and local amenities – reiterating the enduring popularity of the accompanying lifestyle. This modern take on the village has in no way relegated the traditional set-up. As a result of this enduring popularity certain pivotal homes in the village including the manor house, the chocolate box cottage and the former rectory attract a premium.
Manor houses boast both glamour and prestige as the focal point of village life, with spacious living accommodation matched by perfectly manicured grounds. Cottages were traditionally occupied by people perceived as the lowliest in the village, but this could not be further from the truth today. Cottages can be small but perfectly formed and prized for their beautiful thatching, exposed beams and traditional fire places. They tend to have very manageable gardens making them extremely popular with downsizers. This explains why they are so costly on a square footage basis."