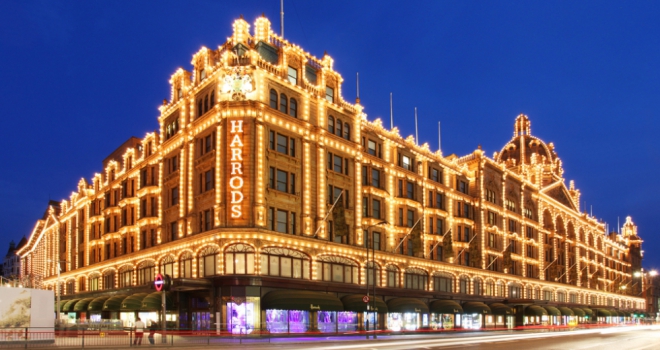 Newly released research from high-net-worth mortgage broker, Enness Global, looks at the capital's 'brandmarks' or famous luxury landmarks and their impact on house prices.
The research shows which locations are home to the highest cost per square foot and how it compares to the wider borough.
The firm compiled a list of London's top 20 attractions for the capital's best-heeled home buyers and found that on average, house prices surrounding these locations cost £1,627 per square foot (sq ft). This is 63% more expensive than the wider boroughs in which they are found.
The most prestigious 'brandmark' location is Mayfair's W1J postcode. With an average property price of £2,212 per sq ft, it's home to the highest house price of all London's high-end 'brandmarks' and comes in 83% more than the borough of Westminster.
Those buying in the area have no less than three exclusive hangouts on their doorstep, Annabel's (the night club of choice for the rich and famous), Hakkasan (one of Mayfair's top restaurants), and 5 Hertford Street (the exclusive private members club).
Mayfair's neighbouring W1K postcode also ranks high with an average cost of £2,180 per square foot. The area boasts some big names of the high-end social scene including Claridge's, The Dorchester, The Connaught and Nobu, with house prices 80% more expensive than the wider area.
White's gentleman's club in St James's (£1,909) and Soho's high-end homeware store, Liberty (£1,901), also rank within the top 10 most prestigious 'brandmarks' where property prices are concerned; with prices 58% and 57% higher than the wider borough of Westminster.
The Ivy, The Savoy, Quaglino's, Bvlgari Hotel, South Kensington Club, Kensington Roof Gardens, The Ned, The Shard and Sky Garden are also home to a property price premium when compared to their wider boroughs.
Fulham's Hurlingham Club is the only London 'brandmark' where property prices per sq ft in the immediate area (£877) are lower than the wider borough (-7%).
Islay Robinson, Group CEO of Enness Global Mortgages, commented: "The prime London market is the playground of the rich and famous and while anyone can buy a multi-million-pound abode, doing so within arm's reach of an institution such as Harrods boosts your status above and beyond the rest.
"As a result, properties close to the capital's most prestigious brandmarks are always going to come with a price premium in what is already one of the most expensive property markets in the world."