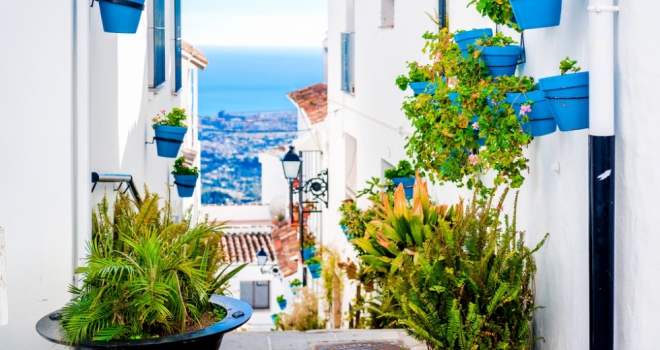 However, it's interesting to see that this doesn't seem to be tailing off and there are a lot of people coming over to do property tours, who are making decisions very quickly and have decent budgets. For Cloud Nine Spain, we've actually done more transactions this year than last year (our best in 20 years), but at a slightly lower level, which suggests that there are more buyers in the market, at all pricing levels, as opposed to the top end of the market, which was especially active in 2021.
We're seeing a complete mixture of nationalities and less reliance on the Brits. In quarter two there were 21 different nationalities buying, showing the cosmopolitan and diverse nature of the market here. The currency market is also making things much more interesting to a variety of buyers, with the Canadian Dollar and the US Dollar both very strong against the Euro. In July, the Euro dipped to the lowest level in 20 years against the dollar. So, it's a great time for American investors to use their dollars to buy a Euro asset.
There's now a shortage of stock on some developments and some of the most popular areas, following the post-COVID boom. For example, Four Seasons in Los Flamingos has 96 apartments and penthouses and at any given time on a development of that size, you'll have between five and ten per cent of the inventory available for sale. But rather than the five to ten units we'd expect to be for sale, there's absolutely nothing available and I now have a waiting list of buyers for the development. If you're thinking of selling on projects with low supply, it´s a great time to do so!
There's a similar situation in Los Arqueros, which is a lovely golf resort on the road to Ronda, which has hundreds of properties but only two or three for sale. Señorio de Marbella on the Golden Mile is in the same position, with three properties available out of around 100 units, so people are having to move very quickly when something does come on the market.
At the very top end of the market, I'm seeing quite a lot of price reductions. Now, don't get excited because it's not going to be a fire sale here, rather it´s a correction in the market following the inflation of prices due to the huge demand from overseas buyers towards the second half of the pandemic. This period saw people paying whatever they needed to be in a certain location, whereas now we have a more considered type of buyer in the market as a sense of normality returns. These buyers are taking their time and this is causing a small price correction in the mid-high and high levels of the market.
As I say, it's not a market that's in any sort of distress at all, but I think there is a little bit of sense and normality returning to the market. We're seeing a few little tweaks that are making it a better market and more attractive for buyers.
A number of branded residences and new luxury projects have been launched, or are in the pipeline. Sierra Blanca Estates have launched Epic, which is a great development part of which is co-branded with Fendi Casa and they are releasing another project which has associations and links with Karl Lagerfeld. And then they have Marbella Design Hills, which is a development that they're very excited about which is going to be spectacular in the highly desirable Sierra Blanca / Golden Mile area.
There are also a lot of new projects in Estepona, near the new hospital, which offers buyers looking for modern properties a good opportunity to buy off-plan and get a better deal than buying a resale in a low-supply market. They would have to wait 18 months or two years, but will have the pick of the units, rather than waiting and then not having the stock available, as we're seeing in places like Four Seasons or Señorio de Marbella. There's just not the choice there once was in the resale market, which is driving interest in off-plan once more. It's a really interesting market and there's no one rule that applies to the whole market, so make sure you get the right advice before making a decision.
We're already having a busy summer, with people combining a property search with a holiday and so the signs are good for the second half of the year. The lasting effect of COVID is that we're getting a more considered type of client with a bigger budget who wants a better lifestyle and is buying for the medium to long term. Marbella and the Costa del Sol are hard to beat for these buyers, so we're very positive that the market will remain strong for the foreseeable future.