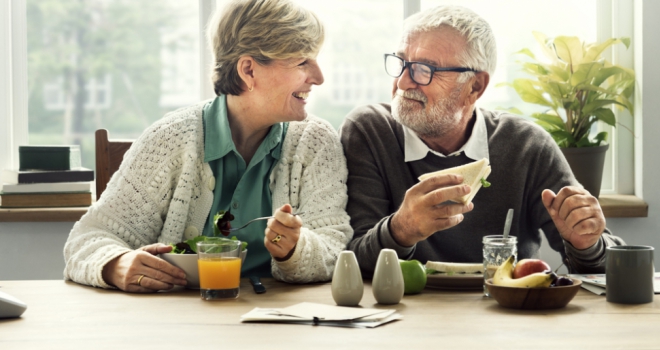 Billed as the fastest growing renter sector in the US, the trend is being mirrored in the UK as well. Baby boomers are cashing in on what is still a buoyant housing market, selling their largest asset and deciding to either rent until they downsize or rent long term. It's a smart move for a generation with capital traditionally tied up in real estate.
There have been multiple reports detailing the current hot housing market - driven by a range of post-pandemic factors, including remote working options, pent-up demand and even pure FOMO. More than half of homes in the US are selling at or above list price - so it's not surprising that seniors have started selling up to release their cash. But market prices aren't the only reason that this demographic is choosing to rent over buying - smart tech and convenience are also playing a role.
Rental attractions
Over the past year, both young and old have come to value the benefits of a more flexible way of living - whether that's through remote working options or just having the choice of a short-term let to try out a new area. Seniors are realising that they can sell up and turn to rentals in order to wait and see what the market does next. Instead of viewing downsizing as a painful process, there has been a shift in mindset so that now boomers are embracing the opportunities opened up through renting.
By not owning property, seniors are free to move from place to place (perhaps catching up with family and friends), they can enjoy a convenient lifestyle in a modern, teched-up property with no responsibility for fixing the guttering or maintaining the garden for example. Meanwhile, as they rent, this cash-rich sector can build their retirement fund.
Trends point towards boomers holding off buying a smaller property and downsizing as they wait to see if the market will top out and prices start to fall.
Seniors are also attracted to the convenient services often on offer in rentals or multi-housing developments. Many include smart tech ensuring energy savings and greater security, as well as aging-in-place amenities which some might start to rely on. For example, wheelchair-friendly wide doorways, ramps and safety bars - all of which would be expensive to install at home but could be on offer as standard in an adapted rental.
Senior renter checklist
Boomers are generally attracted to modern, safe and energy-efficient rental properties with the added benefits of smart home amenities. For a generation that is spending more and more time on their smartphones every day, connecting with family and friends, smart tech features appeal if they are fuss-free. So what do senior renters look for in a connected rental property?
1. Convenience
'Curb-to-couch' technology such as keyless entry can allow residents to let in deliveries or guests without having to walk to the front door. A complete access history provides transparency and security too. Likewise, voice assistants let them adjust the thermostat, turn on the TV, and play their favourite music without having to get up and do it themselves.
2. Safety
Many seniors want the independence of living alone, and care homes are often too pricey for many, yet they are concerned about keeping safe in their accommodation. Cameras can help loved ones check up on their relatives and monitored life safety services, such as smoke and carbon dioxide alarms and security systems, also add an extra layer of protection for older residents.
3. Energy savings
Seniors on pensions and mindful of budgets welcome savings on utility bills. Smart energy-saving devices can bring down heating bills by as much as 12% or cooling costs by 15%, and can even adapt to the resident's schedule over time so the home is not heated whilst vacant. Smart thermostats can also enable property managers to stay ahead of maintenance and avoid significant costs for residents.
Will the senior renter trend continue?
It's not just millennials who are getting on board with the tech revolution and flexible lifestyle it allows. As long as baby boomers continue to value the flexibility and convenience afforded by renting and enabled by smart tech, we will see this generation continue to embrace both short-term and long-term rental options.
Rental properties with 'set-and-go' tech as well as senior living services in place are well-positioned to catch this expanding sector.