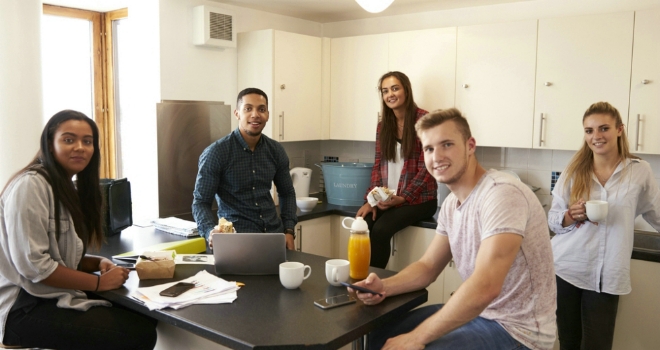 According to new research, international students are opting for shared accommodation to combat loneliness when they embark on university education in the UK
Many international students are arriving in the UK without knowing many people and are increasingly opting for shared accommodation, according to new figures from Housing Hand, the UK's only secured and reliably insured guarantor service. Over the last 12 months, there has been a growing number of guarantor applications for Houses of Multiple Occupancy (HMOs), which have between 3-5 bedrooms and shared kitchen and bathroom facilities.
According to Housing Hand, many international students are opting for shared accommodation, so that they can make friends quickly and avoid feeling alone. This is echoed by a recent report from the BBC which shows that three quarters of 18 to 34-year-olds living in Britain say they feel lonely.
Jeremy Robinson, Managing Director of Housing Hand comments: "Many international students opt to live initially in shared accommodation, so they have time to make some friends and then move to a flat to share, in their subsequent years at university. It can be very daunting starting student life in a new country and we have helped thousands find their first property with our UK guarantor service.
Before international students make an application for rental accommodation, it's important they carry out some research into the areas around the university and potential places to live. Ensuring there are good transport links to the campus is vital if the accommodation is not within walking distance. The closer students live to a university, the higher the rent prices.
If students plan to walk to the campus, they need to make sure they have checked the safety and security of their walking route. They should avoid poorly lit, isolated areas and stick to main roads that have good street lighting."
We charge students a one-off fee paid at the start of the tenancy. Prices start from just £295 for up to 12 months cover. The exact fee depends on several factors including the rent amount. Applicants receive a free, no obligation quote by making an application. The student fee will be between 60-95% of their share of the monthly rent, subject to a minimum of £295. Fees can be paid via eight monthly instalments, from £42 per month, ensuring the upfront cost of renting is kept to a minimum.
There are added benefits to students who can expect a percentage of their fee back at the end of their tenancy as a rebate. This 'money-back' offer increases year on year with users of the service entitled to 15% of their fee back after one year of using the guarantor service, doubling to 30% in year two and 45% in year three."