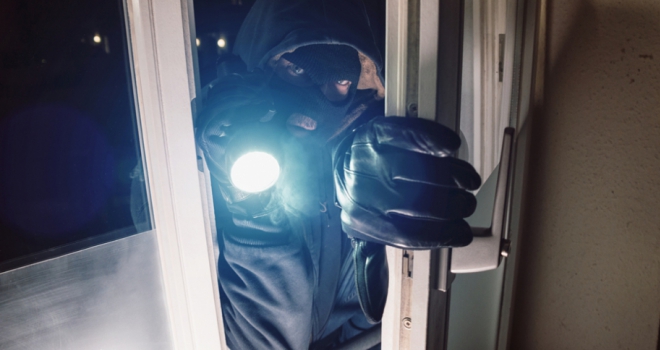 "I hope our findings act as a wake-up call for homeowners in cities such as Cardiff and Manchester."
There over 380,000 burglaries recorded annually in England and Wales alone, but 68% of respondents said they haven't protected their home with a standard burglar alarm.
Only one in five invest in CCTV and, despite the increased sophistication and methods used by burglars, just 13% boost their defences with smart security devices and cameras.
Currently, only 41% of people use a safe to protect important documents, money, jewellery, or keys. In Belfast, just 29% of people use a safe, compared to 53% in Newcastle, who rank the highest in the country.
The most paw patrols happen in Bristol with 40% of homeowners owning a guard dog, compared to just 16% in Norwich.
Properties in Cardiff were exposed to be the most vulnerable to burglary in the study. Properties in the Welsh capital were scored down for factors such as only 4% deploying smart security, 11% using CCTV and 29% of owners only being at home at night when most burglaries happen in the daytime. Manchester also featured in the bottom three cities, despite its M20 (Didsbury, Withington) and M21 (Chorlton-cum-Hardy, Firswood) postcodes amongst the highest burgled areas in the country.
Edinburgh joined Cardiff and Manchester in the three most at-risk areas for burglary.
Glaswegians can breathe a sigh of relief with their homes assessed to be the most secure in the UK. An impressive 22% of homeowners own over seven internal and external security cameras, a quarter live in more secure mid-terrace properties and 27% fit their front door with a multi-point locking system - key factors analysed that contributed to the Scottish city's high ranking.
Newcastle and Liverpool followed Glasgow as some of the most protected cities.
The study analysed all security criteria in relation to average house prices. Homeowners living in the lowest value properties - costing between £0-£100,000 - invest the most in home security kit to protect their home. Over half (51%) of residents living in a property costing under £50,000 own a burglar alarm, whilst 34% invest in state-of-the-art CCTV security – 14% above the national average. In contrast, those living in properties valued between £450,000 - £500,000 have the most ineffective security measures and ranked bottom.
In light of an increase in burglaries motivated by a desire to steal a vehicle, a worrying one in five respondents still leave their car keys on display in a porch or hallway by the front door. A surprising 14% even hang them on a keyring in the front door lock at night.
Anthony Neary, managing director for safe.co.uk, commented: "It's clear from our study that millions of homes across the UK are not adequately protected from burglary. Although investing in the latest security devices can deter criminals, there are also plenty of common sense measures that can be adopted to make a property less vulnerable.
"We often find that those people who get into the mindset of a burglar or take the time to review weak spots in their home find the right levels of protection. I hope our findings act as a wake-up call for homeowners in cities such as Cardiff and Manchester."