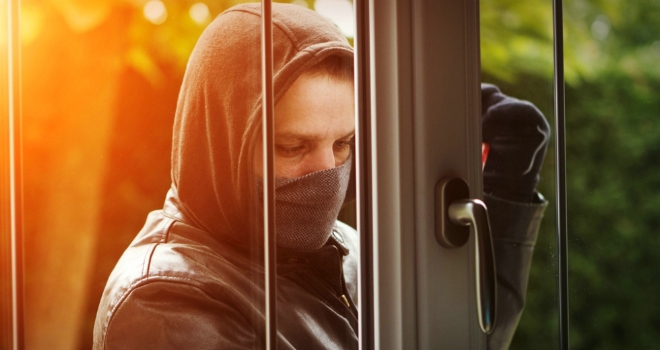 The analysis of claims data reveals end-terraced houses account for 28% of burglaries on streets with terraced properties, despite being significantly outnumbered by mid-terraced properties. Research amongst burglars reveals surveillance opportunities, side and rear access are all easier with end of terrace properties.
Burglars questioned said "I'd always pick an end house, wouldn't pick one in the middle. If it was a terrace it'd always be an end one" and "I would look for …corner houses, ones with back alleys." Living in a ground-floor flat means you are twice as likely to be burgled than someone on the first floor, with ground-floor burglaries accounting for 65% of all apartment burglaries.
Martin Scott, head of Churchill home insurance, said: "It is clear the risk of burglary is directly related to the ease of access and location of a property. Factors, such as living on a ground-floor flat, or at an end-terrace house, do present easier access for burglars and homeowners should be vigilant to this risk and take appropriate steps to protect their homes. Taking steps such as installing security lights, external CCTV, burglar alarms and anti-climb paint can all help deter criminals"
In total, there were 171,527 recorded incidents of domestic burglary in the UK between April 2016 and March 2017 – a 2,700 (two per cent) increase on the previous year. The analysis also revealed that an unlucky 2.2 per cent of properties were burgled more than once over the last three years - 95 per cent of this number were burgled twice, 4.4 per cent were burgled three times and 0.7 per cent four times.
Martin continued: "On average, there were 470 recorded burglaries every day across the country in the last financial year. We want to encourage people to be aware of their home's vulnerabilities and install the relevant security measures to make life as hard as possible for intruders. Homeowners should also always ensure their home and contents are adequately insured to avoid further trauma should the worst happen."
Top tips for protecting your property:
1: The best burglary deterrent is for the home to be occupied, so if you are away ask neighbours to pop around, leave a light on or invest in timed lights. Don't make it obvious that no one is home
2: Think like a burglar and see where the best points of entry to your home are. Make sure all windows and doors are locked and if you have a burglar alarm, use it and keep it clean so it looks like it is used and serviced regularly
3: Ensure all locks to the property have a British Standard Kitemark (BSI) as a benchmark of quality
4: Don't leave ladders or tools accessible outside, as a burglar could use them to help gain access to the property
5: Try not to leave packaging for new expensive goods outside your home. It is better to take it to a public recycling bin, as it can attract burglars. Do not leave expensive, portable items like tablets or laptops in clear view
6: If you keep power tools, golf clubs or garden equipment in an outbuilding or shed, make sure the shed is locked and/or has security features such as an alarm or security light
7: Ensure any security features which allow you to track your phone or tablet are turned on as this will help police locate your device should it be stolen. If you are burgled, also call your contract provider immediately and have the line and phone blocked