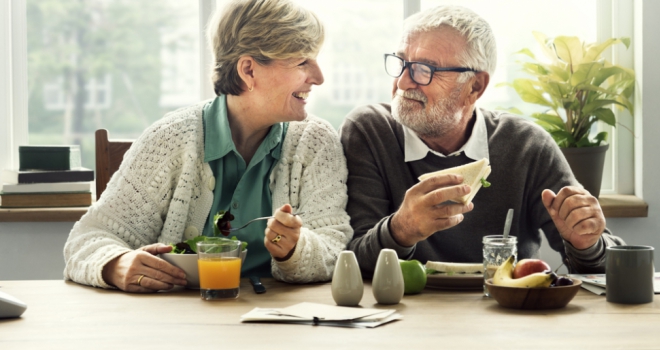 The latest research from over 50s experts, SunLife, has found that 70% of over 55s rate happiness in their homes 8 out of 10 or higher and can't imagine ever moving again.
SunLife's Home Sentiment Report surveyed 1,000 homeowners in their 50s, 60s, 70s and 80s – and found that on average, respondents had been living in the same home for 20 years, and half for more than 20. According to the findings, the happiest over 55s homes have celebrated 23 Christmases, 83 birthdays, and three births.
And when asked if they could ever see themselves leaving their family homes, 55% said: "I love my home and I can't see myself moving in my lifetime."
70% have been very happy in their homes during that time - on a scale of 1 to 10 with 10 being the happiest, the respondents were 8.1 'happy' on average with over a quarter rating their happiness as 10.
Of the 70% who rated their happiness in their homes 8 or higher, SunLife asked how many 'big events' were celebrated in their homes, and which were the happiest memories.
SunLife found that for most, the happiest time of year is Christmas and on average, the happiest homes have celebrated 23 Christmases.
Top five happiest memories in the family home
1. Christmases
2. Summer holidays
3. Birthdays
4. New births
5. Anniversaries
One in five over 55s say they are worse off than they expected to be at this stage in life, and while downsizing could offer a way to free up cash to ease the financial strain, 62% still say they would not want to downsize. For one in five, the main reason for not wanting to move was that their home held 'too many memories'.
Simon Stanney, Equity Release Service Director at SunLife, said: "Our research shows that family homes hold a huge amount of happy memories. Most of our respondents have been in their homes for at least two decades, and in that time have celebrated hundreds of happy family occasions.
And despite the fact that the over 55s are a property rich, cash poor generation, who could free up a lot of cash by downsizing, our research reveals that most cannot bear the thought of giving up their homes and with it, all the memories they had.
On average, people over 55 have seen their homes increase in value by around £135k, so for people over 55 who own their own home and are looking for a cash lump sum, unlocking some of the value in their homes via equity release rather than by moving, could offer the solution."