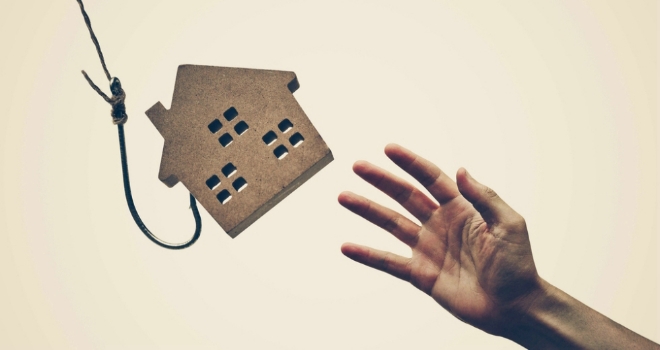 "Avoiding bad tenants through detecting fraudulent applications protects the relationship between agency and landlord."
It was reported this week that 50% fewer rentals are now available in some postcodes in London than there were available pre-pandemic. Rightmove announced recently that demand for rental property currently outstrips supply in London by 300%. As always with economic equilibrium, rental prices have spiralled as a consequence.
On top of a surging rental market, news broke this week that UK inflation has hit a 40-year high after spiking to 9% in the last 12 months. The Bank of England has forecasted that things are going to be worse by the end of the year as it expects inflation to see double digits.
The alarming rise of fraud in times of economic uncertainty Homeppl is the foremost expert in fraud detection and prevention in the rental market. Our fraud technology is second to none and is trusted by a selection of the biggest agencies and build-to-rent companies in the UK to conduct thousands of checks per year. Our technology is unique and we catch every case of fraud. Every time.
Our research has shown a 100% increase in attempted fraudulent rental applications for homes since the start of the year. This trend is likely to worsen as the cost of living crisis continues.
What exactly does fraud in the rental market look like?
Well, some prospective tenants doctor and falsify referencing documents (such as bank statements, residency documents and prior references) in order to secure rental properties on false pretences.
We're not just talking about amending a PDF. Advanced fraudsters are using software and tools to cloak their real financial and residential history.
Whether it's our unique font detection technology or our in-depth background checks that catches them, we've built up an extensive database of the tricks fraudsters use to deceive estate agents and landlords up and down the UK.
Why does fraud become more prevalent during a recession?
Simply put, people tend to be more financially vulnerable during a recession. With rising inflation, astronomical energy & gas prices and the price of food and rent increasing, people around the UK are tightening their belts.
There is more reason for people to falsify their financial history to secure rental properties… especially in a market where demand for property outstrips supply.
Why is this so detrimental to landlords, estate agents and build-to-rent companies?
Because the stakes are so high. On average a bad tenant will cost a landlord approximately £33,000 in defaults, legal and eviction costs.
If applicants feign their financial and residential history then that leaves landlords across the UK more vulnerable to experiencing these real financial costs far more prolifically than if the UK was in a period of economic growth.
Companies tend to lay off staff, incomes are more likely to be frozen, interest rates increase all whilst the cost of living and rent goes up.
Fraud prevention could save or bankrupt smaller letting agencies
In periods of economic downturn, smaller firms tend to feel a squeeze on the ability to grow, invest or even operate at total capacity.
Did you know that we've recently detected fraud to the tune of £160,000 for one of our BTR (Build-to-rent) clients? We prevented a US-based criminal from illegally renting a luxury apartment from them in East London.
Whilst bigger rental agencies can somewhat offset the financial consequences of these undiscovered cases, smaller agencies may not be able to take the economic hit and survive. If landlords incur such exorbitant expenses because their agency failed to identify bad tenants then they're likely to take their business elsewhere.
Larger letting agencies can be hit badly too. In the last three months alone we detected £1.35m worth of fraud for just one of our clients.
Illegal subletting and the cloaking of financial viability are damaging in the best of times. They are totally disastrous in the worst of times.
How can letting agents and landlords be better at detecting fraud in the wake of a UK recession?
One of the main reasons fraudulent tenants are able to lock in long leases under false pretences is down to either a lack of willingness to conduct a thorough referencing check or the lack of capability to do so.
Homeppl have conducted a recent survey interviewing 100 owners & co-owners of estate agencies. 52% of them revealed that they had to deal with tenants who submitted fake salary information during the tenant referencing process in the last two years.
This survey also revealed that the most significant concern that landlords have when letting out their property is an inability for their tenants to pay rent.
Avoiding bad tenants through detecting fraudulent applications protects the relationship between agency and landlord.
A recession places further financial constriction on landlords
Job insecurity and uncertainly fills the air for everyone during a UK recession. Landlords may rely on their rental property as a sole, or more important source, of income when times are tough.
A good tenant in a rental property becomes a reliable bulwark whilst incomes, bonuses and other sources of living can be jeopardized. That safety net for the landlord is at major risk when tenants lie about their income, residency or purpose of renting.
Ultimately, the capacity for rental growth is intrinsically linked to what households can afford.
It is essential that lettings agents protect their relationships with landlords by investing resources into fraud prevention during the tenant referencing process.
Landlords and agencies can see first hand how thorough a referencing check can be by uploading documents and testing our fraud tech for themselves here: https://www.homeppl.com/our-tech/.