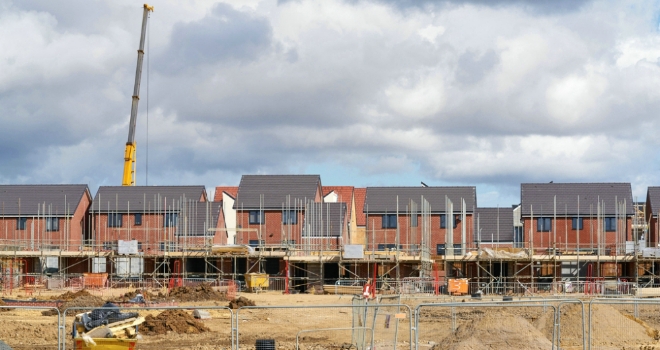 Volume housebuilder, Taylor Wimpey, has announced that it has seen a record first-half performance and expects full-year completions to be towards the "upper end" of guidance of 13,200 to 14,000 homes.
During the half-year to July 4 2021, TW completed 7,303 homes compared to 2,771 during H1 2020 which covered the Covid-induced market shutdown. The company said the marked increase was partly due to completions that had been delayed in Q4 2020.
The firm's operating profit margin of 19.3% (H1 2020: 2.1%) was a reflection of "tight cost discipline" and a higher level of completions, according to Pete Redfern, Taylor Wimpey's CEO.
Net private sales rate for the first half was 0.97 homes per outlet per week against 2020's 0.70, driven by strong customer demand. The business reported "healthy levels of customer interest in reservations extending well beyond the end of the stamp duty land tax holiday".
Private average selling prices during the half-year rose 6.5% to £327,000. Revenue rose from H1 2020s £754.6 million to £2,196.3 million. Pre-tax profit was at £287.5 million after last year's £39.8 million loss.
It worked from an average of 228 outlets compared to H1 2020s 237, opening 37 new outlets during the period (H1 2020: 39).
As of August 1, Taylor Wimpey's order book value was £2,712 million (2020 equivalent period: £3,022 million). This represented 10,589 homes (2020 equivalent period: 12,014 homes).
With full-year 2021 completions expected to be at the upper end of its guidance range, the business also anticipates full-year operating profit to be around £820 million - above the top end of consensus.
In 2020, the firm completed 9,609 homes against 2019's 15,719. It said it was "well-positioned" for accelerated volume growth from 2023.
Pete Redfern, Taylor Wimpey's CEO, said: "We have delivered a record first-half performance and a strong operating profit margin performance of 19.3%, which reflects tight cost discipline as well as higher completions in the period.
"Backed by last year's equity raise we stepped up our activity in the land market before competition returned and we successfully increased our land pipeline with high-quality sites that will deliver a strong financial performance."