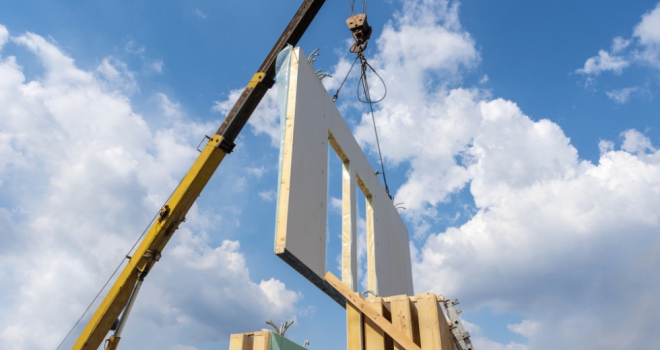 Legal & General Modular Homes has announced that it has partnered with Town & Country Housing to acquire a site in Broadstairs, Thanet, Kent, for the development of 153 modular homes.
Together with its schemes in Selby, Bristol and North Horsham, this latest partnership brings Legal & General Modular Homes' pipeline to 670 new homes, creating up to 300 new jobs by the year-end.
Working alongside RP partner Town & Country Housing, the scheme, located on Poorhole lane, which will be funded by Homes England, will deliver 153 affordable homes for shared ownership and social rent. A range of two, three and four-bed houses will be offered through Town & Country Housing's trading brand, Love Living Homes. All homes have been designed to achieve an Energy Performance Certificate (EPC) 'A' rating and will see improvements made to the local amenity, including the creation of a woodland walk and the planting of 8,500 trees.
From its factory in Sherburn-in-Elmet in Yorkshire, Legal & General Modular Homes has ambitions to build its annual housing delivery to 3,000 modular homes a year in 2024, bringing rapid and disruptive change to the construction industry. It is designing and manufacturing homes that are sustainable, high-quality, and affordable, transforming the way we build in the UK.
With the importance of quality housing having been emphasised over the last year, modular construction is offering an impactful solution, supporting UK jobs and helping to meet the government's objective to build more affordable carbon-friendly housing. Legal & General's modular housing factory, for example, offers multi-skilled employment opportunities, including across design, finance, engineering, procurement, construction and production.
Rosie Toogood, CEO, Legal & General Modular Homes, said: "In a post-pandemic environment, the importance of delivering affordable, carbon-friendly homes, set within green open spaces and at the heart of a well-connected local community has moved to the top of the agenda. Through modular construction, Legal & General is able to deliver all of this and in half the time of traditional methods.
"With our delivery pipeline now for 670 homes, the business is making great steps forward. Our latest scheme in Broadstairs, along with our schemes in Selby, Bristol and North Horsham will really showcase the part modular can play in helping the UK to Build Back Better."
Colin Lissenden, Development Director at Town & Country Housing, adds: "Town and Country Housing is part of the Peabody Group. We own and manage nearly 10,000 homes in Kent and with a large growth plan accelerating to 800 homes per year we are keen to explore innovative ways to provide much needed affordable housing in Kent. We are delighted to have secured grant funding from Homes England which has really helped to bring our joint vision to reality.
He concludes: "We here at Town & Country are committed to making a positive impact on communities by providing more affordable and sustainable homes. That's why we're pleased to be working alongside Legal & General on the upcoming modular construction scheme in Broadstairs. Modular homes are an exciting approach to the UK's house-building market, that delivers fast, efficient, sustainable, and affordable options to local communities."