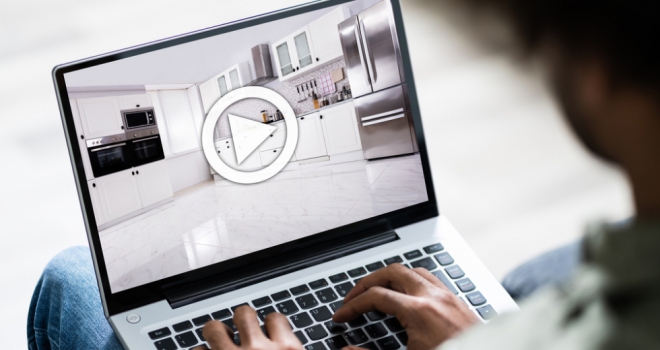 Research by estate agent media provider, Giraffe360, suggests that virtual tours remain an invaluable tool in the post-pandemic market when it comes to converting homebuyer interest. In fact, 59% of all homes listed on the market with a virtual tour have already had an offer made on them, or have sold subject to contract.
Despite this, virtual tours remain scarce in the UK market and the figures from Giraffe360 show that of all current homes listed for sale, just 4% are being marketed with the additional draw of a virtual tour.
Middlesbrough is home to the highest availability of virtual tour property listings, where 21% of all listed properties are being marketed with the help of technology.
In Liverpool, virtual tours account for 20% of all properties, and they're also popular in Belfast (19%), Huddersfield (19%), Leicester (18%), Manchester (17%), and Glasgow (15%).
Virtual tours also account for 10% or more of current market listings in Swansea (14%), Edinburgh (14%), Sheffield (14%), Birmingham (12%), Northampton (10%), Newcastle (10%), and Nottingham (10%).
Mikus Opelts, Giraffe360 CEO, commented: "Virtual tours are a powerful marketing tool that bridges the gap between the limited insight available from an initial property listing and the physical viewing itself.
"They can dramatically streamline the viewing process as potential buyers can really get a good feel of the property and if it's right for them, before embarking on a viewing in person.
"Hardly surprising then, that homes with a virtual viewing within their online listing are in high demand, but despite this, adoption by the property sector remains low.
"As technology has advanced, the quality, ease and affordability of implementing virtual viewings have also improved and with home sellers now expectant of the very best exposure for their home, there's no excuse for agents not to offer these additional services as part and parcel of their proposition."