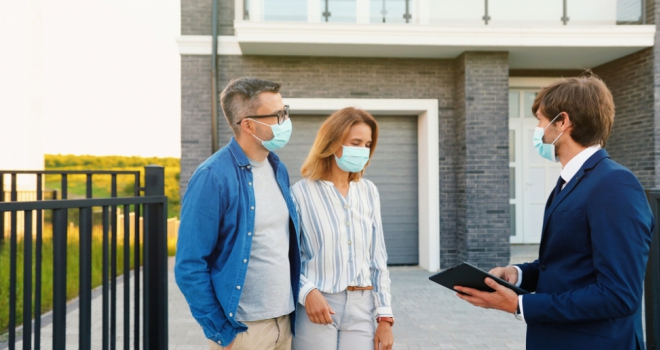 Despite face coverings and social distancing no longer being a legal requirement in England, many estate agents are continuing to practice covid safety measures while interacting with clients to ensure they are doing everything they can to protect the public.
Katie Griffin, from Sawdye & Harris, said: "Whilst the lifting is a bright light on the horizon, we have to keep our clients, staff and families safe and we as a firm, whilst relaxing the locked door policy, will be wearing masks for viewings and visitors to the office.
"Having sought opinion from our clients, both sellers and landlords, the majority are happy for masks to be worn for viewings. Safety has to be at the forefront of all we do particularly as there has been a spike in the South West region in recent days."
According to Catherine Freeman, Sales Manager at James Estate Agents, her office will also continue to keep certain precautions in place for now. "We will still be wearing masks and sanitising on viewings and market appraisals. We will also request visitors to the office wear masks for the time being too. The general feeling is that it is too soon to go from having restrictions in place to nothing overnight, especially with the continual rise in the number of cases," she adds.
Alex Britchfield, Partner at Davis & Partners, is in agreement, saying that their company has taken the decision to continue with all the social distancing measures they have had in place since the beginning of lockdown, including wearing of facemasks by all who attend viewings.
He comments: "We've written to all our clients to inform them of this policy, and we have received nothing but support from them. Our policy for the protection of our staff, viewers and our clients is 'no mask, no viewing'. As an employer the health of our staff is paramount, and we will be continuing with an abundance of caution."
Laura Howey, CEO and Founder of Love Property in North Yorkshire, says that her business will not be making any changes after the 19th, so that they can continue to protect their buyers and sellers.
She explains: "What this means for our clients is that anyone attending viewings will need to cover their face and try to touch as few handles and doors in the property as possible, especially with the prevalence of COVID being so high in our area. We also get lots of out-of-area buyers and we feel it would be irresponsible not to continue operating safe measures to protect staff and clients. We are also trying to minimise contact with members of the public directly to avoid having to isolate. Should we come into contact with somebody who goes on to test positive, this causes staffing complications and is yet another reason for keeping our facemask policy in place," says Howey.
Debbie MacFarlane, Valuations Manager from Nest Estate Agents, says: "Whilst most people are undoubtedly looking forward to getting back to some normality, at Nest we remain conscious of those who are either in the at-risk category or simply anxious about COVID-19. As a business, our client care and the safety of both our customers and team will remain our priority. Therefore, we will be ensuring that we still observe social distancing, hand washing, sanitising and face coverings where appropriate or requested."
"Clients we have spoken to provide us with mixed messages with regards to the lifting of the restrictions, indeed no two clients circumstances are the same. Some are nervous and are maybe in the at-risk group, yet some are looking forward to holding a conversation with another person and being able to truly communicate by reading facial expressions."
She continues: "our aim will be to make each client feel as comfortable as possible, we certainly do not wish for anyone to feel at risk or nervous and therefore we will be willing to adopt any or all of the previous hands, face, space guidelines to ensure our clients' needs are met. In a public-facing role, this has to be a priority."
Edward Chelton Brown, Director of Chelton Brown Lettings and Sales, says: "Since May last year we have done everything we can to ensure the safety of our team and the customers we serve in Northampton. The investment in technology and new equipment has been huge but the business has benefited tenfold from this investment and ultimately, we have been able to keep working where others haven't.
"In fact, with the help of The Guild of Property Professionals and other online tech providers our sales division has grown by 209.84% in the past 12 months due to the introduction of virtual tours and virtual viewings. This combined with a one-on-one service aimed to minimise contact and maximise customer service has meant the number of new instructions and sales has rocketed.
"Monday morning and Friday afternoon COVID-19 tests have become the norm for those working in the office, and this will continue long after the 19th of July to ensure we are minimising any risk of spreading the virus. The same can be said for masks, anyone out viewing properties, valuing, or meeting with clients will continue to wear a mask and we will recommend our clients do the same.
He concludes: "Whilst wearing a mask isn't always the most comfortable thing in the world, particularly on hot summer days, if it makes our clients feel more comfortable then there will be no complaining from us and whilst the restrictions may have been lifted, COVID-19 has not gone away so we will continue to do our part in reducing risks and keeping us all safe."