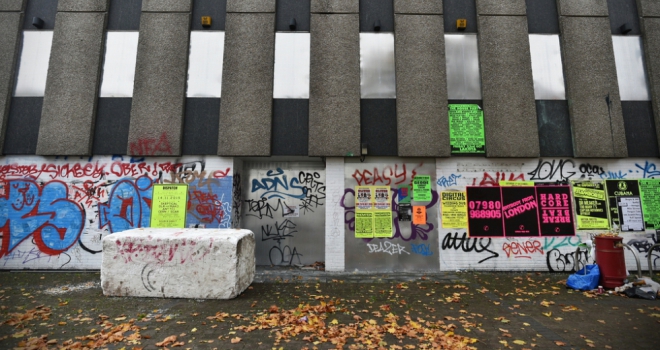 New research from Live-in Guardians has shown that squatting in commercial buildings in cities across the UK is on the rise.
According to the findings, police and local authorities are failing to record figures and don't appear to have a handle on the scale of the problem.
Since anti-squatting laws made it a criminal offence for squatters to occupy residential buildings, empty commercial buildings have become more of a target for squatters, costing owners thousands of pounds in damage and legal fees.
Live-in Guardians contacted the Metropolitan Police and 19 councils across London to try to obtain accurate figures under the Freedom of Information Act about the number of reported squatters in non-residential buildings, but they were unable to supply information and for the most part have not been recording figures. Recent Met Police figures show a huge drop in the number of people prosecuted for squatting offences in London since the legislation was passed in 2012, with only six people taken to court for squatting in residential buildings in the capital last year.
Squatting in a non-residential building is classed as a civil offence, putting the onus on the building owner to pursue the offender, resulting in heavy costs that often run to the tens of thousands to cover repairs, rubbish removal, legal fees and bailiffs. Far from reducing the overall number of squatters, legislation has in effect legalised the squatting of non-residential buildings and led to an increase in organised groups of squatters taking over buildings such as vacant offices, shops and warehouses.
Arthur Duke, a former commercial lawyer and founder of Live-in Guardians, comments: "The Met Police figures misleadingly imply that squatting has been all but eliminated. But this is just one side of the issue and in reality, the problem has just been shifted elsewhere.
I take issue with the lack of accurate numbers being recorded, making a mockery of any figures that are being aired and showing how the problem is falling between the cracks. We realise homelessness is a genuine and growing concern, but the organised nature of some of these squatter groups is putting building owners over a barrel. As soon as a building is left empty it becomes a target. Sometimes it is unavoidable for landlords to have periods during which their buildings are disused, but they don't have to be left empty. Property guardianship is a way to ensure their building is protected and looked after during these void periods."
Property guardianship emerged in the 1990s in the Netherlands as a way of combatting the large number of squatters occupying empty buildings in Holland. This is becoming more popular in the UK as renters look for more affordable ways to live. Guardians live in the property while it is vacant, typically paying less than 50% of the private rental costs, while saving business owners money on security and business rates.
Pre-eminent civil enforcement company, Burlington Group, that works with commercial building owners before Live-in Guardians come on board, has extensive experience of removing squatters from properties.
Director, Jonathan Chatfield, had this to say: "Squatting is still a huge problem - there are more trespass claims coming through at the moment than I have seen ever before in my 30-year career.
Many squatters know the law and use it to their advantage to make it harder for landlords to get them out. We are seeing the same culprits again and again, which shows they are just moving on.
However, moving an organised group of squatters out of a large building is extremely difficult and often requires claims in the County Court and then enforcement being transferred to the High Court, which takes time and money. Prevention is far better than cure. The police will only get involved in extreme cases as they class it as a civil matter."
The Property Guardian Providers Association, the PGPA, is a recently formed group of the top guardian providers in the UK that promotes safety and standards in the property guardian sector.
Graham Sievers, their Chairman, adds: "The costs of removing squatters and the clean-up afterward are often substantial, and Live-in Guardians, one of the founding members of the PGPA, is right to point out the gap between reported prosecutions and the reality. Securing vacant buildings through managed occupation is a growing sector that benefits both property owners and people seeking affordable living accommodation."