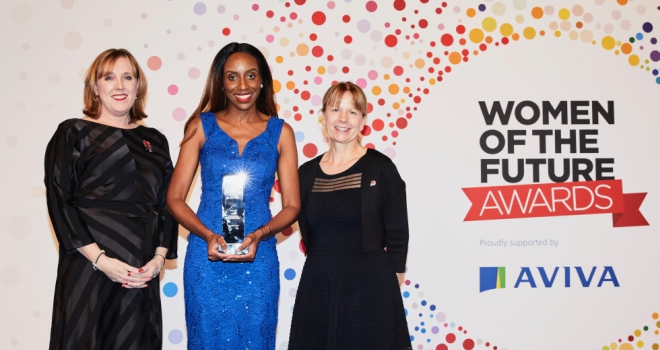 Celebrating the most innovative, determined and talented young women from every corner of the UK and in every field, The Women of the Future Awards showcase trailblazers from across the country, announcing winners at a star-studded event in London.
This year's awards ceremony, held in the capital and attended by former Prime Minister, Theresa May, saw entrepreneur and property investment specialist, Ayesha Ofori, crowned the winner of the Women of the Future Award for Real Estate, Infrastructure and Construction.
Ofori was chosen from a host of impressive nominees in her category, each a leader in the field of real estate, infrastructure and construction.
Ofori formally launched property investment communities PropElle and the Black Property Network earlier this year. PropElle focuses on empowering women through property and self investment, whilst the Black Property Network is a group for those in the UK of black heritage and for those of other minority groups, focusing on increasing financial literacy and financial stability through property.
Through a combination of targeted networking events, educational seminars and workshops, mentoring and other affordable services, Ofori aims to break through two of the most significant barriers to entry for investment: lack of knowledge and lack of support system. The two groups have been tremendously successful, boasting over 600 members in just six months.
Ofori developed a tenacity and ambition to succeed from an early age. Always one of the only women in her class, she earned an MSci in Physics from the prestigious Imperial College London and an MBA from London Business School. She is a former real estate investment analyst at Morgan Stanley and a former ultra high net wealth investment adviser at Goldman Sachs. Ofori first began investing in property several years ago, as a "hobby", and built a large personal property portfolio before setting out on her own and founding three property businesses.
Ofori comments on her win and plans for the future: "It was an honour to have been shortlisted for this award, and to win is incredible. I'm grateful to the judges for choosing me, and to the Women of the Future community for giving me a platform to continue my work.
That night, I was announced to the audience as a 'change maker'. I'm determined to do all I can to live up to those words. My aim is to democratise property investment, and to positively impact the lives of those who need it the most.
There's plenty more to come, so watch this space."