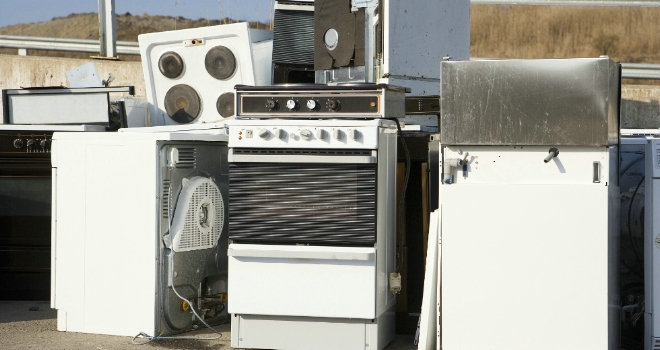 Anyone who's flipped a property will be able to tell you there is a huge amount of waste. Sadly, when flipping, there's often a lot of the property that can't be salvaged or upcycled, or even passed on to someone else.
Tiles can often be chipped or beyond repair, skirting boards can be hanging off and carpets are often beyond cleaning.
The sad fact is, there's a hell of a lot of rubbish that can sadly end up in landfills unless you're able to work with a company that can sustainably remove your rubbish and either incinerate or recycle it for you.
One area where you can often upcycle is the kitchen. If the property has an existing kitchen which although may have seen better days, is still stable and useable, simply updating it by sanding down and re-painting the cabinets can completely transform a kitchen. Adding new hardware in modern tones, updating the lighting and adding new worktops or flooring will totally transform a kitchen at an absolute fraction of a new one.
Using antique shades found at charity shops or at auctions for pendant lights can create a real focal point and installing an island will instantly bring the space bang up to date.
If the kitchen is in good condition, but simply won't work with the new design plans for the property you could also consider selling it online. At The Used Kitchen Company, you can sell the old kitchen and make a tidy profit towards installing a new one. In fact, they don't just sell kitchens, you can find furniture and fittings for every room often ex-display or high end from private homes.
This not only prevents the kitchen from going to a landfill, and means you no longer have the expense or hassle of removing the kitchen but it also gives the kitchen the chance of finding a new and very thankful owner. This is especially true of painted kitchens which often have solid wood doors and can easily be repainted to look like new
If the kitchen is beyond repair, but your budget has been hit by the need for an extension or new heating system, buying a 'new to you' kitchen can also really help to save the pennies and still deliver a really high-end finish. Ex-displays from kitchen showrooms together with used kitchens from private owners give you the chance to install a top name designer kitchen in your property that will add thousands to the value. As we all know, a good kitchen can sell a property and can add over £30k to the value of a home.
The key when considering how to be more sustainable when flipping your property is to look at all aspects of the renovation. From what products you're using, to what you can re-use, sell or upcycle. We have to get out of the 'dump it all' culture so many of us have fallen into and replace it with 'what can I salvage and re-use or sell' not only will this help save hundreds of tonnes of waste going to landfill each year but also put plenty of pennies back in our pockets, something we all need.