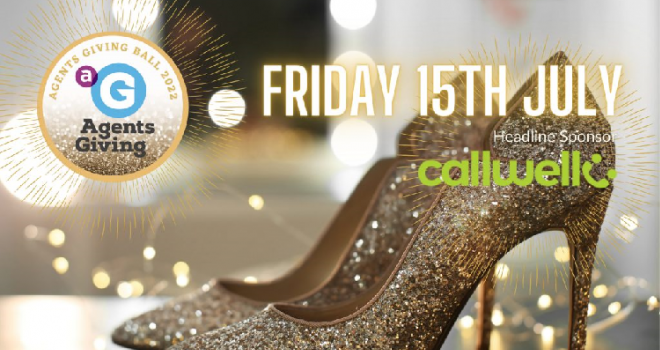 The Agents Giving Charity Ball sponsored by Callwell and supported by Nurtur and Atlas Displays will take place on Friday 15th July and will once again be celebrating the extraordinary fundraising efforts of our industry. On the night they will be recognizing those who have made an outstanding contribution to fundraising, charity and local communities.
David Newnes, Chairman of Agents Giving, comments: "We have seen so many wonderful fundraising events taking place by agents so far this year. This once again highlights that there are so many of you doing some fantastic charity, fundraising and community work."
The award winners will be announced at The Agents Giving Charity Ball on 15th July at the Epsom Downs Racecourse in Surrey, as well as seeing the return of the Agents Strictly Dancing Competition.
To enter the awards or nominate someone you know who has carried out good deeds for charitable causes in their local community or has undertaken a fundraising challenge for charity, click here.
Agents Giving will also be awarding the Outstanding Contribution Award for Charity - this category sponsored by Propertymark allows anyone to nominate their very own charity person of the year. The deadline for award entries is 27th May 2022 and are free to enter.
The Agents Giving Fundraising Champions Awards 2022 categories are:
· Best Team Fundraising – Sponsored by National Home Move
· Best Company Fundraising – Sponsored by Stephen J Brown Consultancy in memory of his wife Sam Brown
· Best Individual Fundraising – Sponsored by The Property Franchise Group
· Best Creative Fundraising – Sponsored by Valpal
· Best Community Fundraising – Sponsored by Zoopla
· Best Industry Supplier Fundraising – Sponsored by Mint Insurance Brokers Ltd
· Best Fundraising Campaign – Sponsored by PayProp
· Special Fundraising Award – Sponsored by Deverellsmith
· Best Social Media Campaign Award – Sponsored by J P Gardner & Associates
· Best Agency Corporate Social Responsibility (CSR) Award – Sponsored by ESTAS
· Outstanding Contribution Award – Sponsored by Propertymark
The Strictly Agents dancing stars will be:
Kristjan Byfield – Base Property Specialists and The Depositary
John Young – Drivers & Norris
Suzanna Mavity – Acaboom
Danielle Lanthier – Paramount
Katy Poore – Thomas Morris
Bernadette Sheridan – PayProp
Jason Kelly – X1 Lettings
Natasha Sugerman – Drivers & Norris
Robert May – Rummage Property
Manuela Daniels– Thomas Morris
To find out more about the amazing dancers, click here.
Bookings for tables are at £1,500 per table of ten or £160 per individual ticket. Book your tickets today to secure your place at the ball as only a few tables remain.
For further information, please contact Agents Giving - info@agentsgiving.org / or visit the website at www.agentsgiving.org