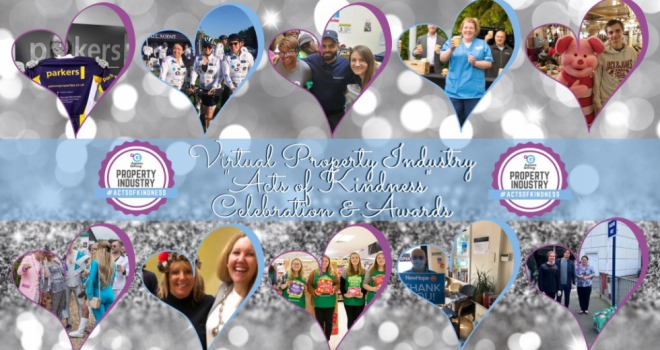 Agents Giving would like to thank all of you who tuned and took park into the first virtual event which raised £1,442.90 for NHS Charities Together. The lucky winner of the £200 Amazon Voucher kindly donated by ToughRight Software was Becky Hill from Thomas Morris.
Agents Giving's Acts of Kindness champions were also named by Phil Spencer with Thomas Morris winning the Best Overall Act of Kindness Award who completed many fundraising activities during lockdown showing a genuine commitment to local charities, helping their local food bank efforts and going the extra mile in their local communities doing whatever was needed to help out. Runner up was Murray Lee of Dreamview Estates with his non-stop support and fundraising for his local NHS charities, delivering food parcels for his local food drive and Easter eggs to children, the list of good deeds was endless.
Suppliers to the industry were also recognised with Reapit being successful in the Best Industry Supplier Act of Kindness category. The Special Act of Kindness was awarded to joint winners, Jonathon Martin of Spicerhaart for their ongoing support for the children's charity Magic Moments and Godfrey Haire of Arun Estates for his tireless fundraising for The Rainbow Trust who provide support for the whole family when a child is seriously ill, including his own family.
A full list of winners can be found on the Agents Giving website here
The live charity auction was held by Agents Giving partners IamSold, Ben Ridgeway and Jamie Cooke were the auctioneers who did an amazing job raising around £6,000 on the afternoon- thank you to the IamSold team and all the generous bidders.
The charity donation of £750 to their chosen charity was sponsored by Foxtons was gifted to Spicerhaart's Magic Moments and Godfrey Haire's Rainbow Trust. The music was from DJ Ross Harvey and Unity DAB.
Michael Stoop, Chairman of Agents Giving, commented: "The Agents Giving Virtual Awards and auction was an opportunity for us to come together to recognise the wonderful Acts of Kindness shown during lockdown. We were absolutely delighted to announce the Agents Giving Acts of Kindness Awards, and all the winners should be very proud of what they have achieved for their local charities, causes and neighbourhoods. We would like to thank our sponsors, supporters, partners and guests for a wonderful celebration. Agents Giving wish all our supporters a Merry Christmas and a prosperous New Year."
For further information, please contact Yvonne Martin at Agents Giving - Tel: Yvonne@agentsgiving.org / or visit the website at www.agentsgiving.org