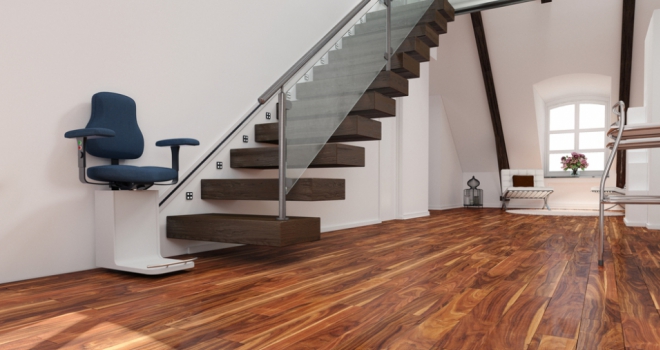 Whether you need to make your home more accessible for a family member, or you need specialist equipment to help you manage day-to-day tasks, there is a lot to consider when adapting your home to meet your needs.
It can be a daunting but necessary step towards improving the quality of life for either yourself or of those closest to you.
Loan experts at money.co.uk share their advice on implementing some of the most common mobility home adaptations. From grab rails to stairlifts, Salman Haqqi explains the financial options and help available.
Financial advice, loans and grants
Whether you need to make your home more accessible for a family member, or you need specialist equipment to help you manage day-to-day tasks, home adaptations can often be expensive and time-consuming.
That's why it's important to consider all of the financial options available to you before you commit to making any long-term changes, particularly if they involve any structural adjustments to the home.
Disabled facilities grants
If you or a family member living at home is registered disabled, there is the option to apply for a grant from your local council to accommodate to your specific needs and requirements. This can include the widening of doors, installation of wheelchair ramps, the addition of stairlifts, the construction of a downstairs bathroom, and the adaption of lighting and/or heating controls for easier use.
Eligibility
In order to be eligible for this grant someone living in your household must be disabled, you must own or be a tenant in the property, and you must also plan on living in the property throughout the grant period, which is five years.
The amount you receive will be dependent on your household income and any household savings over £6,000.
Home improvement and renovation loans
If a grant is not possible, a home improvement loan could be another option to fund any mobility adjustments and additions needed within your property.
With low-interest rates, you'll be able to update your home with mobility-accommodating features without an overwhelming upfront cost, and spread the payments out in a more manageable way.
VAT
VAT notice 701/7 offers 0% tax on goods for those living with disabilities, as well as anyone aged 60+ on products that are designed for your own personal use. This tax relief covers such items as adjustable beds, wheelchairs, stairlifts, alarms, ramps, widening doors, lifts, braille paper and the leasing of mobility vehicles.
Mobility adjustments to make to your home:
Making disability adjustments to your home can be critical in improving the quality of your life, but beginning the process can be both unnerving and overwhelming. That's why the experts at money.co.uk have collated a list of the different mobility aids available and given their professional advice on what to consider before undergoing any renovations on your property.
Stairlifts
When stairs prove too challenging for individuals with mobility issues, stairlifts are a great way to move between floors safely and independently.
Things to consider before acquiring a stairlift
If your planned staircase has any obstructions like radiators or built-in cabinets, these would need removing before the stairlift can be added, causing additional work and making the installation process longer.
Is your staircase straight or curved? Installing a stairlift on a curved staircase usually requires it to be custom-made and will cost considerably more.
Even the best stairlifts on the market require servicing from time to time, but choosing a reputable manufacturer, means you're not only less likely to undergo problems but you're also more likely to have a guarantee.
Always make sure to ask about how long the guarantee of your stairlift will last, as well as the average cost of repairs for the model you go with. This will help you better prepare for any issues that may arise with the model in the years to come.
Be sure to have a thorough understanding of the purchase price of the equipment, and whether the model is new or a reconditioned unit.
Finally, ensure that VAT isn't included in the price of your stairlift, as this disability product is exempt from the tax.
Grab rails
If you or a family member are currently relying on furniture to help stay balanced, then the installation of grab rails can bring some much-needed relief and peace of mind.
Assisting with stability and mobility around the home, grab rails are a great solution to preventing dangerous accidents and falls.
Things to consider before installing a grab rail
Grab rails can be installed on a variety of surfaces including tile, drywall, concrete wood or stone.
For full support and stability, a grab rail should be attached directly to the studs inside a wall.
Grab rails come in a variety of shapes, sizes and prices, with some starting from as little as £4.88 at essentialaids.com.
Ramps
Ramps can make getting in and out of a property much easier, especially for those who rely on a wheelchair or mobility scooter to get around. Yet with so many types to choose from, it's important to consider what you really need from your accessibility aid.
Things to consider before getting a ramp installed
It's important to consider the size and width of your wheelchair or disability scooter before choosing the right ramp for your home.
When picking a ramp, remember the shorter the ramp, the steeper the slope and moving a wheelchair up a steep ramp is more difficult.
Wheelchair ramps can be made from wood, steel, concrete or aluminium and they all come at a variety of different costs.
Decide what your ramp needs - do you want it to be permanent or portable, does it need to be foldable, will it need a non-slip surface?
Walk-in showers and baths
A walk-in shower has a flat entrance that lets you easily enter without stepping over a high shower tray, making it easier for people with less mobility.
A walk-in bath works slightly differently, with a watertight door that opens, allowing you to step straight in and close it behind you, getting rid of the need to climb over the side of the bath.
Things to know before purchasing a walk-in shower or bath
Due to walk-in bathtubs being taller than they are wide, they can often take a longer time to fill and drain than regular baths, and you'll need to stay in the tub for both the draining and filling.
A walk-in bathtub is usually quite a large and costly renovation, so it's always wise to get a consultation first, most companies will offer this free of charge.
When choosing your walk-in shower it's important to consider what features you require your shower to have, do you need a shower seat or grab rails?
Walk-in showers can sometimes result in water leaking onto the bathroom floor due to there being no tray to catch the excess water, so if your bathroom is quite small you should consider whether this is right for you.