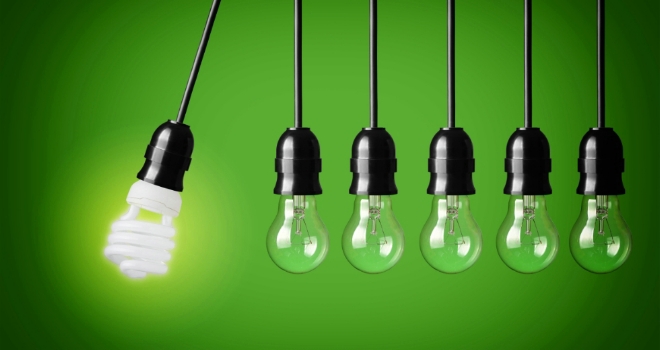 So you want to sell your property? You go through all the usual steps in order to make it an attractive purchase, repairing things, a new coat of paint etc, trying to boost your kerb appeal. These are all great ideas to add extra value to your home, but you may have missed one..
MoneySuperMarket has found that upgrading your Energy Performance Certificate (EPC) – the government's rating of a property's energy efficiency - from an average D to a high end A can have massive financial benefits.
The research explores different locations in the UK and how changes to your EPC affect the price of local properties. An EPC incorporates the type and layout of the building, any heating, cooling, ventilation and hot water systems used, and the lighting. The startling results show that an increase from the lowest rating, G, to as little as F can have a six per cent price increase on average – while raising it to an A or B can give a 14 per cent boost to your potential sale price.
Regional Improvements
The differences in price vary across the UK, meaning that although properties in the North East could see benefits of up to 38 per cent by increasing their EPC from a G rating to an A or B, those in the South East will see none at all. Cities that could benefit the most include:
1. Lichfield – Houses in Lichfield sell for an average of £265,000, but given that the average UK EPC rating is only a D, those looking to increase the price of their properties could see an increase of £24,766 by raising that rating to an A or B
2. York – With an average sale price of £269,997, sellers can benefit from an increase of £23,684 on average by increasing their rating to an A or B
3. Bristol – Bristol properties sell for £285,000 on average but could reach £306,923 with an increased rating
4. Worcester – Simple improvements on energy resources around a Worcester house can result in a £21,028 increase
5. Exeter – Exeter sellers could add £20,769 to their average house price of £270,000 by increasing their energy ratings
Improve your EPC Rating
In order to access these increases to your property value – and even save money on a property you're holding onto – you need to know how to improve your EPC rating. Here are some suggestions on where to start looking to make the most of your energy:
• Install insulation - cavity wall insulation not only offers a chance to improve your energy efficiency, but can also save you £160 a year while you live in the property, which can quickly offset initial costs.
• Lagging jackets – these are insulation for your water pipes. They can greatly improve the efficiency of your hot water tank.
• Light-bulb replacement – something as simple as using energy saving bulbs instead of traditional ones can improve home energy efficiency with minimal effort.
• Upgrade your boiler – particularly in cases where your property features an older boiler, a newer one can have a significant effect on the efficiency of your property.
• Review your EPC – if you have an existing EPC, this offers specific ways that the energy efficiency of a property can be improved.
Stephen Murray, energy expert at MoneySuperMarket, said: "Improving your energy rating can significantly increase your sale price for a relatively low cost. But it's also valuable for other homeowners who aren't planning to sell their properties, as a higher energy rating means greater home efficiency and reduced energy bills.
With relatively simple changes such as insulation, lagging pipes and 6energy efficient light bulbs, you can not only increase your property price for sale, but also reduce your energy bills while you live in it. Those looking to stay for a longer time will see greater benefits from investing in insulation, or in renewable energy sources such as solar panels and biomass boilers. We fully recommend looking into all the ways to increase your EPC and then getting an updated certificate to reflect the improvements."
To find out more ways to improve your energy rating and to see how it affects house prices across the country, have a look at the full graphic on the MoneySuperMarket site here.