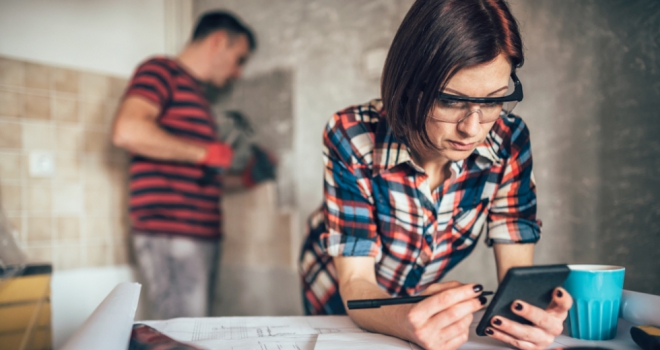 The spiralling cost of living is behind a rise in the number of households who say that they plan to make improvements to their home to try and slash their household bills, according to new research from Mortgage Advice Bureau.
The research comes as the cost-of-living crisis grips the nation, with household bills, particularly energy costs, soaring to unprecedented levels.
One way consumers are looking to cut back on monthly costs is by making their homes more efficient. The research found that well over two thirds (69%) of households intend to make home improvements to their property. Of this population, two in five (41%) will do so within the next 12 months, and over a quarter (27%) plan to begin their renovations in the next six months.
Painting/decorating (58%) top the list of home improvements, with installing a new bathroom (26%) coming in at second place and redesigning the front garden (17%) the third most popular option. The list also includes more energy-efficient measures. One in six (16%) stated they intend on getting new windows (double or triple glazing), whilst one in seven (14%) confirmed they'll be getting more energy-efficient fittings. Insulation to the floor or attic (11%), and the installation of solar panels (11%) were also popular choices for eager homeowners.
The home improvements households plan to make:
Painting / decorating - 58%
New bathroom - 26%
Redesigning the front garden - 17%
New windows / double or triple glazing - 16%
Energy-efficient fittings - 14%
Draught proofing - 12%
Insulation (i.e. floor, attic) - 11%
Solar panels - 11%
Fireplace - 10%
Roof repairs/new roof - 10%
Install a new energy efficient boiler - 10%
Building an outhouse/garden room - 9%
Loft conversion - 9%
Extension (i.e. side, front, or rear) - 8%
Conservatory - 8%
Electric charging point (outside for EVs) - 7%
Heat pumps - 6%
Among the reasons why homeowners are keen to make improvements to their home, 26% said to make their property more energy-efficient, 50% said to improve the overall look of their property, whilst 17% want to improve the EPC rating on their property, which is timely considering the Government's ambitious targets to bring greenhouse gas emissions to net-zero by 2050. 13% want to increase the saleability of their home. Whilst 21% want to increase the overall value.
50% of respondents said they want to improve the look of their home, whilst 44% want to create a better living environment, and 22% admitted they needed to make long-overdue repairs.
Ben Thompson, Deputy CEO at Mortgage Advice Bureau, commented: "It's a challenging time up and down the country with soaring costs – particularly energy bills – having a significant impact on household budgets – and there's no sign of this slowing down any time soon. To try and combat this, and to slash bills, people are wanting to invest in improving their homes to make them more energy-efficient. For those who can afford to do so, it can be a double win of improving your home and making it more environmentally friendly, but also cutting costs. Most people would rather invest in their home than give their hard-earned cash to energy suppliers.
"The Government's ambitious targets to bring greenhouse gas emissions to net-zero by 2050 will no doubt add more stringent measures to EPC ratings in households, therefore, any energy-efficient improvements you can make while renovating your home will go a long way.
"And these improvements don't need to break the bank. Smaller renovations whether that's new energy-saving bulbs, or installing a smart meter or thermostat, can actually make a big difference. For those wanting to improve the look of their home, a lick of paint can make a substantial difference without attracting a big price tag."