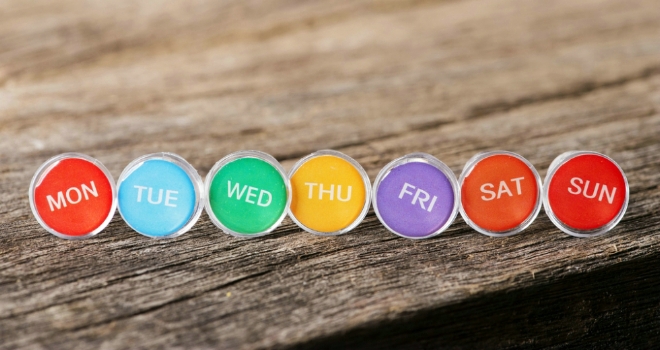 Timing has been shown to play a very important role in property sale when it comes to both how quickly your homes sells and for how much.
Properties that are sold in spring for instance are on average sold faster and at a higher price than properties that are put on the market around Christmas when there are traditionally less people looking for a new home.
Sellhousefast.uk decided to investigate whether a specific day of the week plays a role in the selling process including the price paid. They analysed over 1 million (1,035,754) of properties that were sold in the UK in 2016. Results of the analysis, which is based on the Land Registry's data, revealed a dramatic disparity between different days of the week with Friday standing out the most.
At 458,244 transfers made, properties sold on Friday account for nearly half (44%) of all transfers or almost the same as the total number of transfers on other days of the week combined. After Friday, properties were most often sold on Thursday (193,369), followed by Wednesday (144,518), Monday (126,124) and Tuesday (111,670). The lowest number of transfers was made on Sunday (852) and Saturday (877).
Results of the analysis obviously raise a question: Why UK homes are most likely to be sold on Friday?
Robby Du Toit, MD from Sell House Fast explains: "It actually makes sense if you think about it. Completing the sale on Friday gives both the seller and buyer an entire weekend to move home, allowing them to unpack at the very least the essentials without taking too much time off work. And since the majority of people prefer Fridays over other days of the week, there is also less of a chance for any disruptions to occur in a property chain. On the other hand, it can be difficult to find a removal company as there is obviously high demand for their services on Fridays".
Sellhousefast's analysis of property transfers in the UK in 2016 also revealed that while properties are most likely to be sold on Friday, they are also most likely to sell for less than on any other day of the week. The average price paid on Friday was £285,277 – that's 21.4% less than on Sunday (£363,063) when properties on average achieved the highest prices. Properties transferred on Friday were also 8.4% below the yearly average price paid (£311,547).
Analysis of the Land Registry's data for 2017 (by 31 August) revealed the same trend; properties in the UK are most likely to sell on Friday with more than 52% of all recorded transfers made. After Friday, the largest number of properties was sold on Thursday (82,819), Wednesday (71,376), Monday (68,375) and Tuesday (64,921). Again, the lowest number of transfers took place on Saturday (444) and Sunday (361).
Just like in 2016, properties in 2017 were on average the most expensive on Sunday (£630,109). At the average price paid of £319,466, Friday was again the worst day in the week to sell a property in 2017. After Sunday, properties achieved the highest price on
Saturday (£483,637), followed by Tuesday (£394,355) and Monday (£370,439). After Friday, the price paid was on average the lowest on Thursday (£365,767) and Wednesday (£359,684).