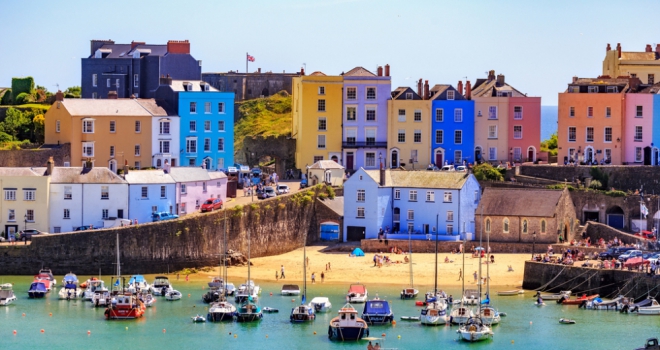 The latest analysis from Second Estates, has found that holiday lettings hotspots in Wales have seen the highest price increases in the UK over the past twelve months after scanning data from HM Land Registry.
A popular holiday letting area, the Forest of Dean has seen prices increase by 7% over the past year up to £351,315, on average, whilst homes in the Brecon Beacons increased in value by 6% to £233,965.
Popular holiday destinations close to London have also seen strong increases over the past twelve months. Locations within a two-hour drive of London such as the Kent Downs and Isle of Sheppey have seen price increases of 4% and average properties now selling for £343,481 and £252,960 respectively.
Well-known holiday locations in Cornwall such as St Austell, Bideford and Mousehole have also seen gains as the tourist industry has seen a 'Brexit Bounce'. This provides a marked contrast to prime second home locations like Salcombe and Sandbanks that have seen declines in prices mirroring the softness in prime London prices.
Prices in Wales have primarily been driven by a surge in transactions as people rushed to complete purchases ahead of the switch from stamp duty to the new Land Transaction Tax which came into effect on 1st April 2018. Locations such as the Forest of Dean and Brecon Beacons are consistently popular for second homes and holiday lets and investors
Alistair Malins, CEO of Second Estates, had this to say: "Holiday lettings can provide investors with better returns than buy to let properties, but knowing where to invest is key. Well-known locations like Salcombe may seem like obvious options, but properties are prohibitively expensive and prices have stalled in recent years.
We're starting to see a resurgence in less expensive seaside locations that are starting to catch up with their more glamorous neighbours. Wales also offers great value and it's unsurprising investors have moved swiftly to snap up properties and avoid the hike in transaction costs.
Second Estates is the first fund to operate in this market, making it easier for sophisticated investors, family offices and institutions to benefit from these returns without the associated hassle. We use booking and valuation data to intelligently predict the highest yielding properties in high value regions to pinpoint properties that will deliver an excellent return for investors. We also manage the properties on behalf of investors, to maximise occupancy rates. This drives the best yields for investors, whilst also delivering more vital tourist income for local communities"