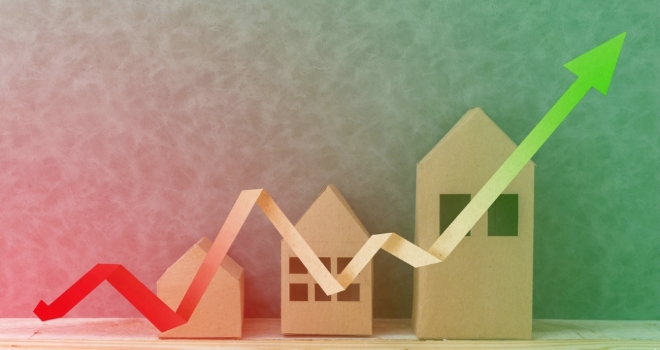 The latest figures are in from Halifax revealing that over between August and October house prices were 2.3% higher than in the previous three months (May-July). This is the fastest price growth, on this measure, since January.
According to the lender, prices in the three months to October were 4.5% higher than in the same three months a year earlier. The annual rate in October is higher than in September (4.0%) and at its highest growth rate since February.
House prices rose by 0.3% between September and October, following a 0.8% increase in September. The average price of £225,826 is the highest on record and 2.8% higher than in January (£219,741).
Russell Galley, Managing Director, Halifax Community Bank, said: "The annual rate of growth has continued to rise for the third month in succession, rising from 4.0% in September to 4.5% in October. The average house price is now £225,826 – exceeding last month's previous high. House prices in the three months to October were 2.3% higher than in the previous quarter, the fastest quarterly increase since January.
The fact that the supply of new homes and existing properties available for sale remains low, combined with historically low mortgage rates and a high employment rate, continues to support house prices and is likely to do so over the coming months. Increasing pressure on household finances and continuing affordability concerns are some of the factors likely to dampen buyer demand. That said we do not anticipate the Base Rate rise will be a barrier to buying a house."
Russell Quirk, founder and CEO of eMoov.co.uk, commented: "Positive signs with the third month of consecutive price growth seen across a resilient UK market providing a strong outlook heading towards the end of the year, with a shortage of new builds and affordable property continuing help to stimulate price growth.

Although the increase in interest rates may stretch some who have borrowed beyond their means and are now treading on thin ice, it is unlikely to impact the wider market. The cost of borrowing money remains at an ultra-low level and this, coupled with persistent buyer demand, should see the market continue to gain momentum."
Mark Harris, chief executive of mortgage broker SPF Private Clients, says: "With demand for housing outstripping supply, property prices continue to be supported with the annual rate of growth continuing to rise. It helps that mortgage rates remain low, and even though the Bank of England raised base rate last week, there are no signs of them shooting up anytime soon. While psychologically the first base rate rise in ten years may affect people's decision-making when it comes to moving house, signs are that any further increases will be modest and slow, so unlikely to put the brakes on the market.
With lenders remaining keen to lend, and signs that some are prepared to absorb rate increases into their margins, borrowers should be able to expect competitive rates for some time to come."
Jeff Knight, Director of Marketing at Foundation Home Loans, commented: "With just three weeks until the Chancellor's first Autumn Budget, the arrival of rumoured new housing policies are eagerly awaited. In the run-up, we have seen moves to curb second home-ownership and the impact of stamp duty on housing market activity debated, with potential cuts rendering significant savings for first-time buyers. However, stamp duty is only one hurdle facing those struggling to enter the market as mortgage affordability, rising prices and inflation outstripping wages continue to delay home ownership plans.
Housing supply certainly requires further attention, and managing the supply and demand imbalance will help to control creeping prices. In the meantime, the rental sector provides far more than just a halfway point and focus on maintaining quality in this area ensures tenants don't have to settle for second best."
Jonathan Samuels, CEO of Octane Capital: "For a number of months now the property market has exuded strength, but in reality its main driver is weak supply.

Price rises are being driven by the shortage of property available for sale, and broader supply problems, rather than a confident consumer and strong economy. Even last week's rate rise is unlikely to break the current narrative of a slowly rising market driven by weak supply.

Mortgage rates have nudged up, but they are still incredibly low and people know that the Bank of England will be extremely cautious about the timing of any further rate rises. The uncertainty theoretically introduced by the first rate rise in a decade has been mitigated by the certainty that the Bank of England will not be hiking rates quickly and sharply.

In the months ahead, much will depend on inflation, which is adding more pressure to household budgets at a time of low wage growth.

The more squeezed people feel, the more likely they are to put property purchases on the back burner. In this regard, the performance of the jobs market in 2018 will be critical."
Jeremy Leaf, north London estate agent and a former RICS residential chairman, says: "On the face of it, these figures are quite encouraging because they continue to demonstrate the market resilience that we have grown accustomed to over the past few months. However, when you look behind the numbers you realise that much of the growth is supported by continuing shortage of supply which we are also finding on the high street.
Looking forward there is no doubt that people will continue to trade but more nervously, particularly in the light of higher mortgage costs and pressure on real income."
Jonathan Hopper, managing director of Garrington Property Finders, comments: "The orthodox view of the property market's regional polarisation has now been turned completely on its head.
As the climate in London becomes ever more wintry, it's springtime in many of the regions – with several local markets bursting into bloom as prices rise in response to brisk levels of demand. Underlying this shift is a steady flight of equity from London – and other overheated regions – to areas with greater affordability.
The net effect is to put downward price pressure on many of the regions which saw the frothiest rates of growth during the boom. The pressure is most acute on high value homes, for which demand has never properly recovered since the imposition of punitive rates of Stamp Duty three years ago.
Against that backdrop, the only sellers gaining substantial traction are those willing to be realistic in their pricing, and on the front line we're seeing buyers at all price points become deeply price sensitive. Though supply is often critically low, most buyers will happily walk away from a property they feel is not priced fairly. While the impact of the base rate rise has yet to be fully felt, Britain's economic fundamentals – in which real wage growth is now well behind the pace of consumer price inflation – mean that affordability will be a key factor in the coming months.
Nevertheless the prospect of further interest rate rises may nudge hesitant buyers into taking the plunge now to lock into a favourable rate. The Halifax's top line rate of growth is solid, but it masks a growing regional divide and a profound price sensitivity among buyers which should ensure price rises stay well shy of the unsustainable rates of growth seen in the boom years."