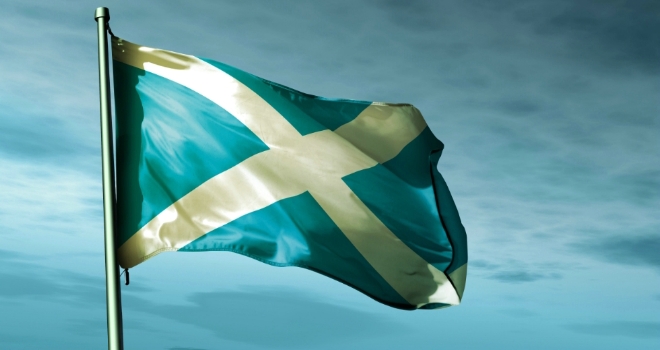 "Scotland's property market has proved to be more stable and reliable than England over the last five years and this trend is set to continue"
The latest analysis from estate agent, Nested, has highlighted the long term impact of England's inefficient housing market. When size adjusted and scrutinized next to England's transaction levels, the Scottish market is streets ahead.
Monthly transactions across Scotland increased by 46% in March 2017, more than double the growth seen across England (18%).
Analysis over the last five years show this is a long term quarterly trend, with the Scottish market consistently ahead when it comes to transaction levels. Given the seasonal fluctuation, a trend line best shows the consistent growth projection. Examination of the trend line reveals that Scottish transactions levels are 8% higher than those in England. When projected to Q2 of this year, this gap widens to 11%.
Matt Robinson, CEO of Nested, comments: "Our analysis clearly shows that Scotland's property market has proved to be more stable and reliable than England over the last five years and this trend is set to continue. Big events like the EU referendum and stamp duty reform have less of an impact on the number of transactions north of the border than they do here. Why? Because in Scotland your offer is legally binding once accepted, and this provides the certainty and security that buyers are crying out for. In England however, the repercussions of broken property chains are exacerbated by a slowing housing market. The result is an inefficient market which lags behind Scotland even with all macro factors considered equal."

The average transactional tax paid both north and south of the border is 2%[2] which creates an even playing field from a tariff point of view. Both countries are also united in their wider geo-political and fiscal outlooks which could impact transaction figures. The only divergence between the two which could have a significant bearing on their transaction rates is the efficiency within the Scottish market's property sales system.
In Scotland, properties are withdrawn from the market once contract negotiations are underway. Because an offer is effectively legally binding, gazumping is incredibly rare so sales are rarely aborted. On the other hand England has a sale fall through rate of over 28% on average, which costs would-be buyers close to £3,000 each, and gazumping and gazundering are a part of the fabric of the property market.
Matt Robinson continues: "The reality is that the housing market in England is hopelessly inefficient – 'broken' by the government's own admission. People are losing out on their dream home because our system is designed to pit buyers against each other, and an offer is worth nothing until a contract is signed which typically happens weeks after the property is taken off the market.
It's frustrating that politicians have failed to learn from the success of Scotland's housing market. Whichever party wins the election, the next government should review the whole system and give people the certainty and confidence they need to move onto and up the ladder."