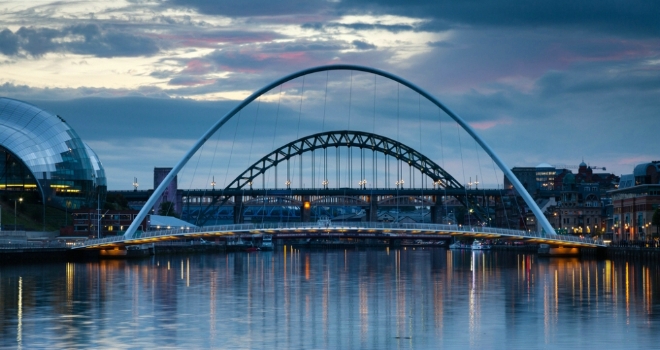 The latest data from North East sales and lettings firm KIS has revealed that the North East housing market has continued its emphatic finish to 2016 – with prices rising 3.7% in November.
The rise means the typical property in the region has seen £6139 added to its value over the past month. The figures follow a rise of 2.9% recorded in October, meaning regional property prices have surged by 6.7% in just eight weeks - £11,209 in cash terms.
According to the data, the average property in the region is currently valued at £171,286 – a year on year rise of 5.6% from the £162,134 recorded in November 2015.
19 of the 20 areas surveyed saw prices rise, with Darlington the only area to see property values fall – albeit by 0.04%
Easington saw the largest monthly rise, with prices at the end of November 6.4% higher than the end of October. Other strongly performing areas included Killingworth (6%) Durham City (5.4%) and South Shields (5.2%).
Whitley Bay also recorded the largest year-on-year growth, with prices in November 2016 9.9% higher than those recorded in November 2015. Prices in Peterlee are 2.2% down in the same period.
The popular area of Whitburn, where prices rose just 0.4% in November – 9 times slower than the average rate – is this month's Best to Buy.
Rental Market Analysis
The average North East rent rose slightly to £597 in November – a rise equivalent to £2.75 a week. This represents year on year growth of 8% from the £553 recorded in October 2015.
Easington (£379) is this month's cheapest place to rent in the North East out of the areas surveyed, with Newcastle (£997) pipping Durham (£994) and Tynemouth (£869) to the position of most expensive. Peterlee continues to be the region's Buy to Let capital, offering rental yields of 6.1% to investors. Other strong performers continue to be Newcastle (5.6%), Durham and Killingworth (5.1%) and Gateshead (5%).
Landlords in Whitley Bay however can expect to see returns on their investment of just 3.2%. The rising property prices mean the average North East rental yield falls back to 4.2%– a drop of 0.1% over the past four weeks and a fall of 0.2% since September.
Sunderland's low price growth and strengthening rental yield of 4.9% see it capture this month's "Best to Invest" crown.
Ajay Jagota, founder and Managing Director of North-East based sales and lettings firm KIS, had this to say: "It's clear that the North East housing marking has some impressive momentum as we reach the end of the 2016, something many forecasters certainly did not predict earlier in the year. North East house price growth traditionally lags behind the rest of the country, but research out this week suggests that the key cities of the UK are experiencing year-on-year growth of something like 8.6% and 9.1% in London.
Our figures would suggest that that growth is not only being matched in the North East, but actively outstripped in areas like North Shields, South Shields and Whitley Bay. It's not outlandish to speculate that far from causing a shock to house prices events like the EU Referendum and the election of Donald Trump have actually removed a good deal of uncertainty in the minds of people considering purchasing property either as a residence or investment, releasing a demand for properties which is pushing prices up.
Rising property prices will inevitably impact on yields, with the return landlords will see on their investment in the region falling 0.2% in the past two months. Even so, it's important to remember that the 3.2% return you get on your money in the poorest performing areas of the North East is still a significant improvement on any saving rate going."