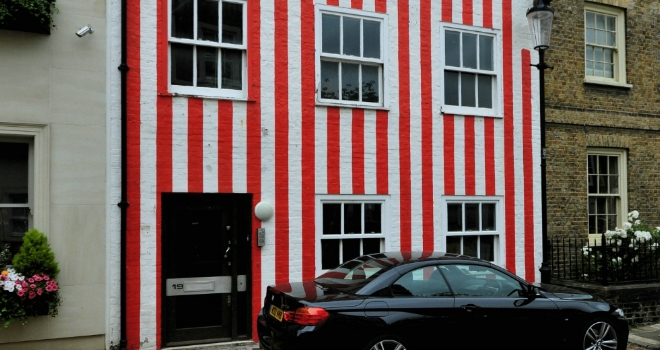 The latest research from Churchill Home Insurance has found that as many as three million Brits have been so offended by the exterior décor of a neighbours' property that they tried to have it removed.
Of these 'kerb appalled' Brits, 45% were concerned that garish exteriors on their street would devalue their property, while 30% wanted them removed because they found the décor tacky. An unsightly neighbouring property could reduce the price of the average home by £29,000.
Over 2.5 million Brits confessed they hadn't bought a property in the past because of the décor of neighbouring houses. 22% of people say they haven't yet, but would be deterred from putting in an offer for a home because of the exterior appearance of other houses on the street.
Londoners are most likely to have been deterred from buying a home because of the look of a neighbouring property, with over 600,000 adults in the capital having been put off by excessive décor. Londoners are also most likely to demand their neighbour remove offending items or decorations, with over a million adults in the capital (or 16%) taking action over their neighbour's unsightly adornments.
Decorations that are the most off-putting for new property purchasers are flag poles and brightly painted facades (both 38%). A famous example is property developer Zipporah Lisle-Mainwaring, who painted bright candy stripes on the three-storey facade of her terraced home in Kensington. Despite angering her neighbours, and being taken to court by The Royal Borough of Kensington and Chelsea, a judge ruling on the case found in her favour.
Other home decorations that would put off prospective purchasers include garden gnomes (36%) and external decorative lights (36%) hung year-round. Additional aesthetically offensive decorations include large garden ornaments such as statutes (33%) and window stickers (24%).
Martin Scott, head of Churchill home insurance said: "When moving into a property, most people want to decorate it to make it their own, but if you are making any drastic exterior changes it may be worth speaking to your neighbours first. Anything that may affect the value of someone else's home is bound to be a sensitive topic.
For larger decorations or items attached to your house, it's worth ensuring the alterations won't impact the building itself. Heavy items on the roof, or anything attached to windows or a balcony might weaken the house and its stability. If your home insurer is not informed, it could also affect whether you are covered under your buildings policy. Before changing the structure of your building, check with your local council in case you need planning permission."
Householders discussed how they reacted to being approached by neighbours taking issue with the external décor of their home. Nearly a quarter did the neighbourly thing and changed the decorations (23%), while 17% listened to the argument but made no changes. One in seven (15%) sought legal action to help fight for their rights to maintain their gardens and house exteriors the way they like.
Almost one in ten (9%) admitted that, when confronted about their exterior home decoration, they added even more décor in retaliation. In some cases, external décor has even escalated into a police matter; five per cent of householders who received complaints contacted the local constabulary to deter their neighbours from troubling them again.
What do Brits do when confronted about their exterior decorations?
| | |
| --- | --- |
| Reaction | Percentage who took this action |
| I understood my neighbour's argument and changed the decorations they did not like | 23% |
| I understood my neighbour's argument but did not make any changes | 17% |
| I sought legal action to help fight my rights | 15% |
| I was not bothered and made no changes | 13% |
| I added more decorations in retaliation | 9% |
| I moved away from the street due to the neighbours | 9% |
| I ignored my neighbours | 9% |
| I contacted the police to deter the neighbours from harassing me | 5% |
More than half of Brits (53%) decorate the outside of their property, with younger people (aged 18 – 34) more likely to have decorations than those older than 55 (61% compared to 46%). Londoners with decorations are most likely to receive complaints (30%), while those in the East of England seem to have the most accepting neighbours (1%).