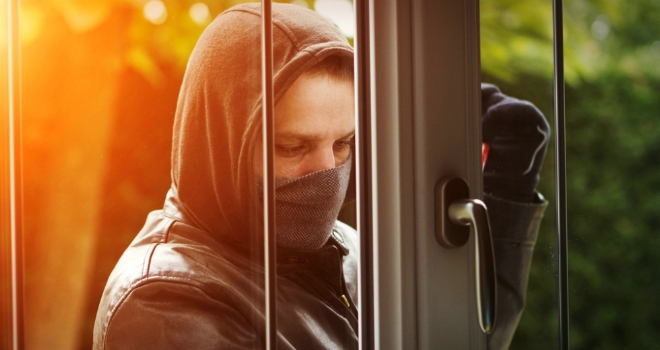 "Being burgled is traumatic enough if it happens once, yet our research shows there is a genuine chance of it happening again and again"
New research from Churchill Home Insurance has found that burglary victims have more than a 1 in 4 chance of being burgled again and even an 8% chance of being burgled two or more times in the same property.
Some 10.2 million adults, one in five Brits, claim to have been a victim of burglary, with those in London, the North West and Yorkshire and Humber most likely to have been affected.
Despite the high likelihood of repeated attacks on their property and belongings, almost one in ten of those who have been burgled say they did not use the opportunity to upgrade any of their existing security systems, deciding instead to rely on measures which had already failed to protect their home. A repeat offender would be able to use exactly the same method to get into their property and steal their belongings.
According to the research, when burglary victims did improve their security, the most popular measures to upgrade were front and back door locks and new windows. Despite being 'successfully' burgled, 92% of victims did not upgrade their alarm, choosing instead to rely on the existing system. The average amount spent by people looking to improve security measures after being burgled is £314. While one in six (16%t) spent less than £100 on new security measures. However, even the most state-of-the-art security upgrades were not enough for eight per cent of victims, who claim that they moved home after being burgled.
Churchill's analysis of burglary statistics reveals that successful criminals are most likely to enter through the front of the property (47%), followed by gaining access through the back (38%) and the side of the property (6%). Of greatest concern is the fact that more than a quarter (26%) of burglaries occurred as a result of a door not being locked.
The analysis also reveals burglars are opportunists, prepared to break into a property if it is broad daylight through the front door. There is only a 5%t greater chance of being burgled in the evening or night, with 55% of these crimes occurring between 6pm and 6am, than there is of a daytime break in.
Martin Scott, head of Churchill home insurance said: "Being burgled is traumatic enough if it happens once, yet our research shows there is a genuine chance of it happening again and again. We would encourage everyone to consider the weak points in their home security, whether they have been burgled or not and ideally install highly visible deterrents such as CCTV, motion activated lights and burglar alarms. Burglars avoid targeting properties that are difficult to enter and leave, so don't be an easy target for them."
Churchill Home Insurance offers a 24/7 burglary response to its customers which means, day or night, Churchill's burglary response team is available to make the property secure after it has been broken into. Following a break in, Churchill will send an engineer to replace all damaged locks with a British standard lock and temporarily secure damaged windows and doors.
Top tips for protecting your property:
1.Ensure any security features which allow you to track your phone or tablet are turned on as this will help police locate your device should it be stolen. If you are burgled, also call your contract provider immediately and have the line and phone blocked
2. If you have a security alarm, use it. Burglars will be able to tell if the alarm is not used and serviced regularly so it will not act as a deterrent unless it is used
3. The best burglary deterrent is for the home to be occupied, so if you are away ask neighbours to pop around, leave a light on or invest in timed lights. Don't make it obvious that no one is home
4. Think like a burglar and see where the best points of entry to your home are. Make sure all windows and doors are locked and if you have a burglar alarm, use it and keep it clean so it looks like it is used and serviced regularly
5. Try not to leave packaging for new expensive goods outside your home. It is better to take it to a public recycling bin, as it can attract burglars. Do not leave expensive, portable items like tablets or laptops in clear view
6. If you keep power tools, golf clubs or garden equipment in an outbuilding or shed, make sure the shed is locked and/or has security features such as an alarm or security light