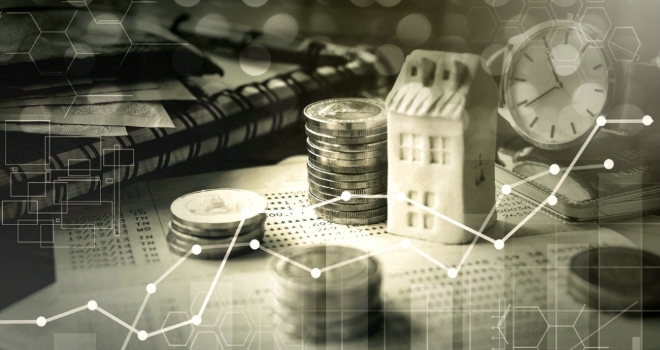 The latest data from Halifax has revealed that average house prices in the last three months of 2017 were 2.7% higher than the same period a year earlier with the annual change in December lower than in November.
According to the lender, house prices between October and December remained 1.3% higher than in the previous quarter (July-September) - this was down from 2.3% recorded in October and November.
On a monthly basis, prices also fell by 0.6% from November following a 0.3% increase in both October and November; this is the first fall since June 2017
The Halifax data sets average house prices at £225,021 at the end of the year and is 2.4% higher than in January 2017 (£219,741).
Russell Galley, Managing Director, Halifax Community Bank, said: "House prices in the three months to December were 1.3% higher than in the previous quarter; a gradual slowdown from 2.3% in both October and November. The annual rate of growth has also moderated to 2.7% from November's 3.9%. Ending the year, house prices in December fell by 0.6%; the first monthly decline in six months.
As we'd anticipated, the housing market in 2017 followed a similar pattern to the previous year. House price growth slowed, whilst building activity, completed sales and mortgage approvals for house purchase all remained flat. This has been driven by a squeeze on real wage growth and continuing uncertainty over the economy.
However, nationally house prices in 2018 are likely to be supported by the ongoing shortage of properties for sale, low levels of housebuilding, high employment and a continuation of low interest rates making mortgage servicing affordable in relative terms. Overall we expect annual price growth to continue in the range of 0-3% at the end 2018."
Russell Quirk, founder and CEO of Emoov.co.uk, commented: "Like most of us at this time of year, it's natural that the UK market may be suffering from a degree of lethargy due to the Christmas period.
While price growth is likely to remain subdued for the immediate future, the level of sales completions continues to remain robust, and once the market finds its rhythm again, we should see price growth stabilise.
Many have been quick to forecast very dark clouds ahead for 2018 but as buyer interest returns to the market over the coming months I think the outlook will be a lot brighter than predicted.
The market has weathered the storm of market uncertainty in 2017 and fared much better than many believed it would, so I don't think the market slowdown over the year ahead will be as exaggerated as some are making it out to be."
Jeremy Leaf, north London estate agent and a former RICS residential chairman, says: "Once again, we are seeing confirmation of a slowing rather than collapsing market, which is showing plenty of resilience for those prepared to negotiate hard. There is no doubt that prices are softening, particularly in London, but Halifax also confirms what we are seeing on the high street - that a lot of hard bargaining is going on and people are generally trying to get on with their moves.
We don't expect to see any great change in the next few months but the realistic players will succeed, whereas those wedded to the idea of the housing market we have seen in previous years will simply not sell."
Mark Harris, chief executive of mortgage broker SPF Private Clients, says: "As 2018 gets underway, lenders remain keen to lend, with a number of them - including Barclays - reducing their fixed-rate mortgages in recent days.
Affordability remains the issue but as long as buyers can get together a deposit, and many will call on the bank of Mum and Dad to do so, there continue to be plenty of attractive rates to tempt them."
Jeff Knight, Director of Marketing at Foundation Home Loans, commented: "Regardless of today's slowdown, good mortgage deals continue to drive demand alongside the recent stamp duty cut for first time buyers injecting additional momentum into the market."

Despite announcements in the Autumn Budget focused on sorting the lack of supply once and for all, the fact remains that not enough homes are being built, which continues to inflate prices even in the previously more affordable regions outside the capital. Until supply catches up, it's crucial that supportive measures are put in place to ensure the rental sector is supported. Improving the quality and choice of rental homes for tenants must be top of the priority list for the year ahead."
Chris Taylor, managing director of Regency Residential, said: "Halifax's House Price Index (8 January 2018) shows that house prices in December fell by 0.6%, the first monthly decline in six months.
This decline in the market is mainly a correction where London is concerned, following years of unprecedented growth with many cities such as Manchester, Bristol and Birmingham seeing record selling prices.
More developers are building entry-level properties and beginning to address the affordability issue. Coupled with the Chancellor's move to abolish stamp duty for first time buyers on properties under £300k and a weak pound encouraging increasing investment from abroad, this will see a stimulus in the market which should sustain prices, especially in properties outside the capital where yields and entry prices are more attractive."