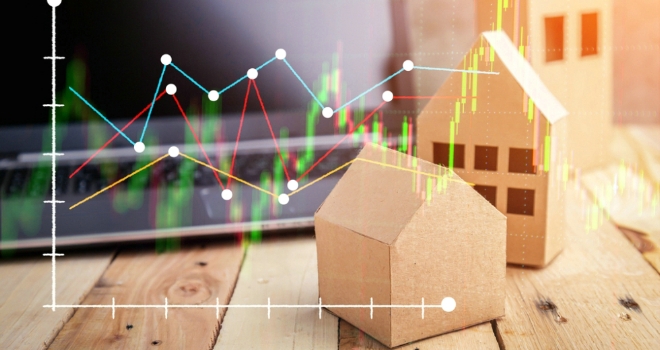 The latest data and analysis from ONS on the UK housing market has revealed that, in the year to October, average house prices in the UK increased by 4.5% - a 0.3% dip against September's figure of 4.8%.
According to the report, Average UK house prices now stood at £224,000 in October - up £10,000 against the same month a year earlier but £1,000 lower than last month.
The main contribution to the increase in UK house prices came from England, where house prices increased by 4.7% over the year to October 2017.
The East Midlands showed the highest annual growth, with prices increasing by 7.0% in the year to October 2017. This was followed by the South West (6.7%) and the East of England (6.1%).
The lowest annual growth was in London, where prices increased by 2.1% over the year, followed by the North East at 2.4%
Russell Quirk, founder and CEO of eMoov.co.uk, commented: "A marginal cool in monthly price growth and one that is almost certainly a minor seasonal frostbite rather than signs of a further market freeze.
While there has been a fall in the number of fresh listings coming on to the market as many now wait until after Christmas before selling, the number of actual transactions has continued to increase at a healthy rate.
This would suggest that it is business as usual for those already going through the process, but sellers are perhaps adjusting their expectations ever so slightly where price is concerned, in order to secure a sale this side of Christmas in tougher market conditions and to a tighter timeline."
John Phillips, Just Mortgages and Spicerhaart operations director, said: "Although the market has been propped up by the amount of remortgaging throughout 2017, there are encouraging signs for house buying too. The issue of supply and demand continues to weigh heavy on the overall market, but these figures show increases for home movers, first-time buyers and even buy-to-let purchasers in October. This shows a level of supply that has defied expectation. It may be because those people that have been waiting to see what happened to interest rates and Brexit negotiations decided to get on and do what was right for them, rather than waiting for what might be.
Whether the winter months will prove to be as active is questionable as many are still wary, preferring to sit and wait to see what will be."
Jonathan Sealey, CEO at Hope Capital, says "It is too early to tell what difference the rise in the Bank of England base rate had on the market immediately after the announcement. However, it now looks like the threat of the rise was enough to push people into action in the third quarter, which meant greater activity across the board in October. The question of affordability is one that has been answered now that interest rates have increased for the first time. People can now see how much extra their mortgages are going to cost, and many will have realised that the increase wasn't as painful as they had feared.

If there are further rises in 2018 there may be a ripple effect on consumer confidence. However, if the government manages to reach its target for new housing this could give the market the boost it needs."
Ishaan Malhi, CEO and founder of online mortgage broker Trussle, commented: "The limited supply of housing in the UK is continuing to push up house prices, particularly outside London. While this is good news for current homeowners, it's less so for first-time buyers struggling to save for a deposit. House prices are now estimated to be over seven times the average annual salary, which is a huge sum of money for those looking to get onto the property ladder.
The cut to stamp duty will provide some welcome relief for those under 30 who are ready to buy now. However, it's possible that prices will rise more quickly over the next year as the market responds to the policy change. With this in mind, those ready to buy should do so soon to take advantage of one of the many competitive rates currently available."
Ged McPartlin, Director at Ascend Properties, comments: "An annual increase of 4.5% demonstrates the resilience of the UK property market. This growth is underpinned by a lack of supply which isn't showing any signs of improving. Unfortunately the developers that are scrambling to bring new stock to the table just don't appear to be quick enough to correct the supply and demand imbalance. That being said, 2018 will be interesting as we're likely to feel the effects of the stamp duty abolition. Already we're seeing a hive of activity from first time buyers who are now back on the hunt due to this reprieve. Next year will be the year that first time buyers get back on the map – if they can find the stock in the first place."
Jonathan Samuels, CEO of the property lender, Octane Capital, said: "London continues to lag behind the rest of the country in terms of annual price growth. But London's slowdown is no fall from grace, just a necessary correction following the exuberant price growth of a few years ago.

Prices in certain London boroughs are still stratospheric compared to other areas of the country. The fact that you can still buy 15 houses in Burnley for the price of just one in Kensington and Chelsea is a case in point. While transaction levels are relatively low overall, it's hard to see the average UK growth rate falling much below its current level. The sheer lack of supply means price growth could hover around 5% for some time to come.
Since the rate rise, there is growing evidence of a lift in activity levels, as people seek to lock into the lowest possible mortgage rates.

If anything, this will provide additional upwards pressure on price growth, although the rate will still be fairly conservative."
Mark Harris, chief executive of mortgage broker SPF Private Clients, says: "House-price growth continued to slow in October, according to this rather historic data, but as we near the end of 2017 it is clear that it has turned out to be a stronger-than-expected year for the housing market. Despite the uncertainty created by the Brexit negotiations, many people have got on with buying and selling property regardless.
Borrowers have also been able to benefit from some of the cheapest fixed-rate mortgages ever seen, and as we move into 2018, we expect to see more of the same, even though inflation has risen to 3.1 per cent. Much will depend on how the Brexit negotiations proceed – if we make decent progress then the next interest rate movement is likely to be upwards but not until 2019. If, however, we walk away from a deal for whatever reason then a reduction in interest rates may even be a possibility, particularly if the UK slips back into a mild recession. Either way, interest rates are not likely to go very far anytime soon."
Graham Davidson, managing director of buy to let specialist, Sequre Property Investment, comments: "The overall increase of 4.5% year on year clearly demonstrates the stability of the UK market. Buy to let investors are still benefiting from healthy capital growth and high yields, despite the numerous tax changes and new legislations introduced. This is something we feel will continue into 2018 as landlords prop up the rental sector due to the shortage of housing accommodation. Those who invest wisely can still benefit hugely from a buoyant market over the next 12 months."