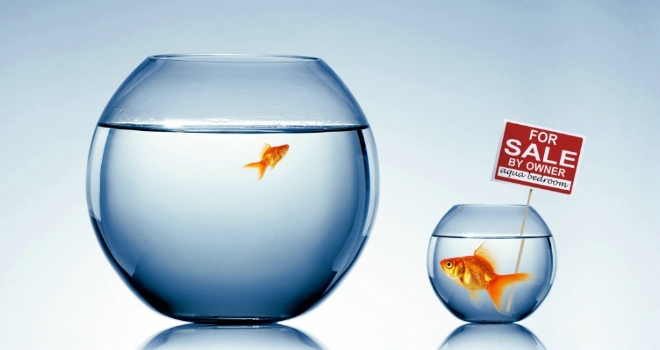 ""
According to a survey of home sellers by online estate agents HouseSimple.com, high street agents may have an attention span only slightly longer than that of a goldfish.
The survey found that after just two weeks agents lose interest in a property if it hasn't received any offers.
HouseSimple.com polled more than 2,000 UK sellers, who have sold a property in the past 12 months, to ask them what they thought of the service they received from the estate agent who sold their property. Half (50%) of respondents felt the estate agent's commitment to sell their property dropped off considerably after the initial couple of weeks of marketing, and by the second week they felt they were already having to chase the estate agent for updates.
Sellers were also asked about the price their agent put their property on the market. It is not uncommon for high street estate agents to promise an unrealistic sale price to get sellers signed up, only for the agent to quickly recommend a price drop once the property is marketed.
More than half (51%) of those sellers polled revealed that their estate agent suggested they drop the asking price soon after marketing their property.
Even the quality of viewings lined up by agents were questioned by sellers, with more than a fifth (21%) of those polled of the view that at least half of the people that came round to see their property were time wasters with no intention of ever making an offer.
That figure rose considerably in London and Wales with four out of ten sellers convinced that 50% or more were time wasters. More than a quarter of sellers (27%) polled said that their estate agent only secured one offer for their property.
In terms of the service offered by estate agents, although almost half (49%) of sellers rated agents at least 8 out of 10 for the quality of service they received, just over four out of ten (42%) said they didn't think the estate agent was worth the fees they paid, and almost three out of ten (28%) said they didn't think their agent tried hard enough to sell their property, With photography playing an important role in attracting potential buyers, and with most people starting their property search on portals such as Rightmove and Zoopla, photography is more important than ever to stand out from the crowd.
But when sellers were asked to rate the quality of photography used by their agent, almost a third (31%) rated it 6 out of 10 or less.
And the idea that the estate agent needs a high street presence is simply no longer the case, with the internet playing a much more significant role. And when sellers were asked if they ever visited their agent, fewer than a quarter (23%) said they had been into see their agent in person.
Alex Gosling, CEO of online estate agents HouseSimple.com comments: "It will be a concern to home sellers how quickly agents lose interest in their property. The problem is that agents only receive their commission once a property is sold, so they need to secure an offer quickly. Once they have you signed up, their interest in your property can wane rapidly if an offer doesn't materialize.
Sellers shouldn't feel under pressure, but often do, to lower the price to attract a buyer, especially when viewings dry up. And the agent is in a much stronger position to suggest dropping the price, when the seller is tied into a contract.
It's important to make sure you your agent clearly explains how they are going to market your property, and not just in the first couple of weeks, but until your property secures an offer. Ask your agent for a weekly update, and clear feedback, whether positive or negative, on what people have said after each viewing, if an offer hasn't been forthcoming."