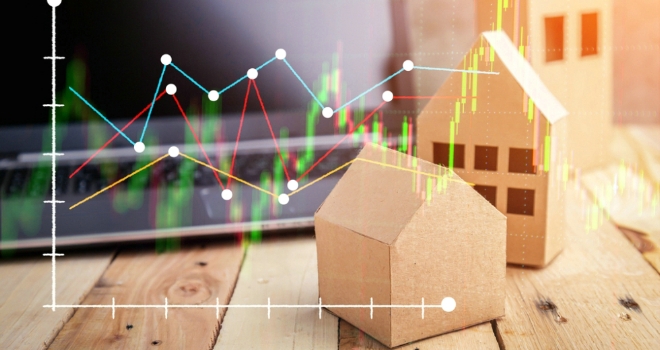 "Last week's Housing White Paper reinforced the well-established truth that supply shortages have been the major contributor to rising house prices"
ONS and Land Registry have been crunching the numbers and have revealed that house prices in the UK increased on average by 7.2% in the year to December 2016, a 6.1% rise in the year to November 2016.
According to data from the latest ONS House Price Index, shows the average UK house price was £220,000 in December - £15,000 higher than in December 2015 and £3,000 higher than the previous month.
The main contribution to the increase in UK house prices came from England, where house prices increased by 7.7% over the year to December 2016, with the average price in England now £236,000. Wales saw house prices increase by 4.7% over the last 12 months to stand at £148,000. In Scotland, the average price increased by 3.5% over the year to stand at £142,000. The average price in Northern Ireland currently stands at £125,000, an increase of 5.7% over the last 12 months.
The East of England remains the region with the highest annual growth, with prices increasing by 11.3% in the year to December 2016. Growth in the South East was second highest at 8.5%, followed by London at 7.5%. The lowest annual growth was in the North East, where prices increased by 4.1% over the year.
John Eastgate, Sales and Marketing Director, OneSavings Bank, had this to say: "Last week's Housing White Paper reinforced the well-established truth that supply shortages have been the major contributor to rising house prices. These look set to rise steadily, outstripping real wage growth, stretching affordability and causing tension amongst long-term renters and aspiring homeowners alike. Today's figures from the ONS only reinforce the scale of the challenge at hand, and the remedial action required to tackle this should not be underestimated. Although the White Paper has identified some potentially sound means of addressing our "broken" housing market, these solutions will take time to deliver."
Russell Quirk, founder and CEO of eMoov.co.uk, said: "There has been a number of sceptics where the state of the housing market in 2016 is concerned and although the likes of Halifax and Nationwide provide a snapshot of performance, the fact they are based on mortgage approval data, not cold hard completions, will always leave room for doubt.
But today's data from the Land Registry provides a concrete view of how the market performed during a testing year and on the face if it, it held up very well all things considered.
Not only did prices see an increase of 7.2% annually, but heading into what is a quiet time of year for the market, an increase of 1.4% in prices and an uplift of 0.2% in transaction volume month on month, is a promising sign indeed for the year ahead.
Not only did the London market see healthy growth despite the changes to second home stamp duty tax brackets, but there is also positive signs across the rest of the nation. The market in Wales, in particular, has really suffered of late and so a 1% boost on November's figures will be a welcome sign for Welsh homeowners.
This latest market insight should spur a renewed confidence in UK homeowners that we have very much weathered the storm and that UK property is an attractive a proposition as it has ever been, whether you are buying or selling."
Jeremy Duncombe, Director, Legal & General Mortgage Club, commented: "The continuing rise in house prices these figures highlight defines the current crisis in the housing market. Whereas traditionally the last month of the year would see a fall in activity as buyers focus on the festivities, today's statistics confirm that demand held strong in December. With mortgage providers continuing to keep rates low, this is a trend that will likely continue in 2017, particularly as the Government's measures on housing will take time to affect the market.
With last week's White Paper, the Government has clearly recognised the supply-demand problem and the impact that it is having on both prospective homeowners and renters too. The sooner that recognition and the promises made to build more homes can be turned into action, the sooner we can really address the housing crisis and create a fairer market in which property prices rise in line with wages."
Ishaan Malhi, CEO and founder of online mortgage broker, Trussle, said: "House price growth picked up significantly in December, making it even harder for the current generation of hopeful first-time buyers to afford a home. It's critical that the government delivers on last week's pledge to 'fix the broken housing market' by boosting supply and keeping prices in check.
Fortunately the mortgage market is particularly competitive at the moment and it's never been easier to compare deals, so those with deposits already saved should be heading online to find a broker that will help them consider all of their options."
Lucy Pendleton, founder director of independent southwest London estate agency James Pendleton, says: "The annual increase in house prices by 7.2 per cent in December is at the lower end of scale compared with the average over the past ten years but was expected considering the events of 2016.
The 44.9 per cent fall in the number of completed house sales in London in October is higher than we were expecting and shows the uncertainty dogging the market, caused by the referendum, higher stamp duty, lack of confidence and fewer investment buyers given the higher cost of buying due to the stamp duty surcharge. There is also concern among landlords as to where the market is going with changes to mortgage interest tax relief likely to hit them hard.
As for what we are seeing this year, realisation has dawned that we are going to have Article 50 whether we like it or not so buyers are steadily returning to the market. It is what it is and in southwest London in particular there are too many positives to make people hold off purchasing or moving. Your children do grow up and they do need to go to school and what was a good-sized house may no longer be.
With so many very attractive mortgage products being launched on a weekly basis, there is plenty to entice borrowers who wish to fix for a number of years for certainty at rock-bottom rates."
Jeremy Leaf, north London estate agent and a former RICS residential chairman, says: "These numbers bear out what we have sen in other recent surveys - that prices although still modestly rising are very much underpinned by a shortage of stock and a dearth of transaction activity. The picture is particularly worrying in London where there has been a sharp fall in sales and is more worrying as we head into the early part of 2017.
'More than anything, responsible property people want to see demand and supply matching as closely as possible. This keeps people moving in and out of the market as freely as they can, which helps to keep prices in check and is better for first-time buyers.'