Independent inventories for student accommodation are crucial, warns AIIC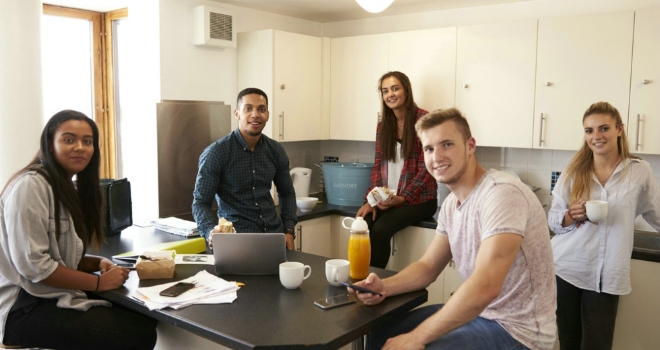 As students return to university for the beginning of the new term over the next few weeks, landlords and letting agents are being reminded of the importance of independent and professionally compiled inventories.
Regulatory trade body the Association of Independent Inventory Clerks (AIIC) says that as the student rental market continues to boom, it's important that landlords - and agents acting on their behalf - take the appropriate steps to protect their investments.
Following the publishing of A-Level results in August, some 416,310 new students have gained places on university courses for the upcoming academic year, according to Ucas.
It's no wonder student lets have become increasingly popular with landlords due to the potentially high yields on offer. And according to recent research, student landlords can benefit from average yields of up to 12% in certain thriving university locations.
Despite the rising appeal of student lets, the AIIC is keen to remind landlords that it is important to put in the necessary groundwork and steps for protection.
Danny Zane, Joint Chair of the AIIC, said: "Thousands of students from all over the globe will be moving into accommodation for the next academic year over the coming weeks and we're taking this opportunity to remind landlords and letting agents of the importance of getting the pre-tenancy process right.
Student lets are different to traditional lets for a number of reasons. Firstly, they are usually only for the duration of the academic year so landlords can expect a higher turnover of tenants."
This means it can be more difficult for landlords to keep up with the contents of the property and any damage that has taken place - this is where inventories become invaluable. There are also often multiple deposits per property to think about as students commonly share with friends."
The AIIC also points out that for many tenants, their university years will represent their first experience of private renting.
Danny adds: "It's beneficial for agents and landlords to acknowledge this and explain the importance and workings of inventories, deposits and other key parts of the rental process.
Student landlords are also likely to experience more frequent void periods due to the nature of their tenants' movements and schedule, according to the AIIC.
Emma Glencross, Joint Chair of the AIIC, explains: "Student rental properties are often left empty for up to three months during the summer period - as well as over the Easter and Christmas holidays - and so the presence of an independent and impartial inventory is crucial for all sides of the rental agreement."
An independent and unbiased inventory details the condition of the property at the beginning and end of the tenancy, helping to ensure a fair move-in/move-out process for all parties. It allows landlords, agents and tenants parties to make a fair comparison of the property's contents and condition when a tenancy finishes, therefore reducing the chances of a formal deposit dispute taking place."
Emma Glencross adds that in the event that a formal dispute does occur, deposit protection schemes are likely to look more favourably on inventories and check-out reports that have been produced impartially by an independent inventory clerk.
Danny concludes: "A booming student lets market is positive for the wider rental industry and if landlords take the necessary steps - including providing a professional inventory - they can benefit from the potentially high yields on offer with the peace of mind that their investment is protected."
Join our mailing list: