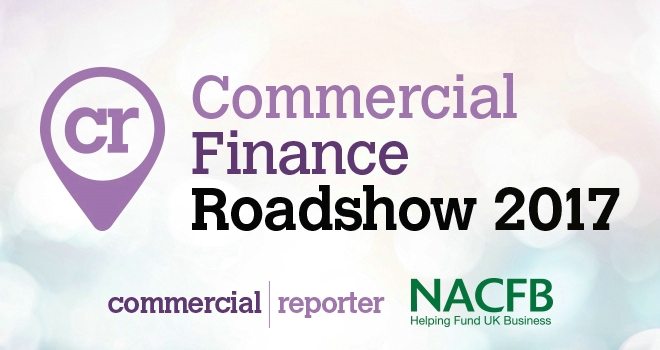 Barcadia Media has revealed that it has been chosen by the NACFB to launch a new Roadshow next month aimed at the commercial sector. The new show follows its Specialist and Buy-to-Let Roadshows which were a huge success last year.
Property Reporter's sister publication, Commercial Reporter, will launch the first Commercial Finance Roadshow in February in association with the NACFB, bringing its popular roundtable format to members in more areas across the country.
Over 4 days and at 4 venues across the country, the Roadshow will feature knowledgeable industry speakers and will cover a range of topics related to commercial finance lending, including available products, regulatory issues and more.
The Commercial Finance Roadshow has been designed to bring specialists and providers face-to-face with true commercial finance brokers across the country to share new products, explore challenges and opportunities in the sector, and spend valuable time discussing the changes to the commercial finance lending sector.
The Roadshow will kick off with an address from the NACFB and will feature roundtable sessions with lenders including Atom Bank, Avamore Capital, Castle Trust, Funding Circle, Masthaven, and Private & Commercial Finance.
The Commercial Finance Roadshow will take place across the following dates and venues:
Bolton - 21st February
West Midlands - 22nd February
Bristol - 23rd February
Heathrow - 24th February
Register for free to attend the Commercial Finance Roadshow here.
All events will enable advisers to offer a comprehensive and informed service to their clients as well as gaining three CPD hours for each date attended.
Norman Chambers, Deputy CEO of the NACFB, had this to say: "In the latter part of last year we re-introduced an old format to our workshop events, and instead of the usual presentation-style, we decided to make the sessions more intimate with roundtable topic discussions where both our Patrons and Members were able to talk more specifically about the areas of finance that directly influenced their business.
We found this to be a winning formula with both Asset Finance & Commercial Finance Members and have therefore decided to branch out, in 2017 teaming up with the successful events team at Barcadia Media to bring this style of workshop to our members in more areas across the country and also to a wider network that this collaboration will attract."
Barcadia Media kicks off its 2017 events with the Financial Reporter Specialist Lending Roadshow which will take place from the 24th-27th January in four locations across the UK.