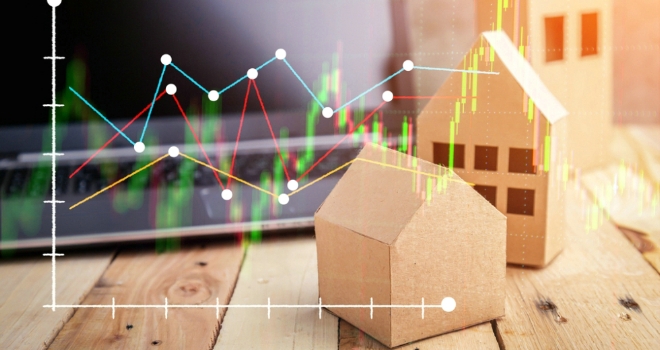 The latest figures released by Nationwide have revealed that UK annual house price growth ended 2017 at 2.6%, a 1.9% dip against a year earlier.
According to the report, London was the weakest performing region, with house prices down 0.5% year-on-year.
Robert Gardner, Nationwide's Chief Economist, comments: "Annual house price growth ended the year at 2.6%, within the 2-4% range that prevailed throughout 2017. This was in line with our expectations and broadly consistent with the 3- 4% annual rate of increase we expect to prevail over the long term (which is also our estimate for earnings growth in the long run).
However, this marked a modest slowdown from the 4-6% rates of house price growth recorded in 2016. Low mortgage rates and healthy employment growth continued to support demand in 2017, while supply constraints provided support for house prices. However, this was offset by mounting pressure on household incomes, which exerted an increasing drag on consumer confidence as the year progressed.
The impact of previous policy changes (including additional stamp duty on second homes, changes to tax deductibility of landlord expenses and lending criteria) meant that demand from buy to let investors remained subdued in 2017.
The significant disparity in house prices across the UK has been a recurring theme in recent years. In this respect, 2017 saw the beginnings of a shift, as rates of house price growth in the south of England moderated towards those prevailing in the rest of the country.
London saw a particularly marked slowdown, with prices falling in annual terms for the first time in eight years, albeit by a modest 0.5%. London ended the year the weakest performing region for the first time since 2004.
Saving for a deposit remains tough for most
Another key aspect of affordability is the deposit required and the time taken to save it. As the chart below illustrates, a 20% deposit in London is now in excess of £80,000 (based on the average first time buyer house price). This is around £30,000 higher than a decade ago. In other regions, such as the Midlands and Northern England, deposit requirements are similar to 2007, though it should be noted house prices were at or near their pre-crisis peak at this time.
It is arguably even more challenging to save for a deposit than it was a decade ago, due to falling real earnings (i.e. after taking account of inflation) and lower interest rates for savers. Based on the same incomes used for the earnings percentiles, we have estimated the number of years it would take the 'typical buyer' to save a 20% deposit, based on saving 15% of net income (take home pay).
In most regions, it would take around 8 years for the typical buyer (as defined above) to save for a deposit. This rises to nine years in the South East and to nearly ten years in London, even though the prospective typical buyer in the capital is in the top 10% of the income distribution.
Looking ahead to 2018
How the housing market performs in 2018 will be determined in large part by developments in the wider economy. Brexit developments will remain important, though these remain hard to foresee.
We continue to expect the UK economy to grow at modest pace, with annual growth of 1% to 1.5% in 2018 and 2019. Subdued economic activity and the ongoing squeeze on household budgets is likely to exert a modest drag on housing market activity and house price growth.
Nevertheless, housing market activity is expected to slow only modestly, since unemployment and mortgage interest rates are expected to remain low by historic standards. Similarly, the subdued pace of building activity evident in recent years and the shortage of properties on the market are likely to provide ongoing support for house prices.
Overall, we expect house prices to record a marginal gain of around 1% in 2018. Over the longer term, once the economy regains momentum, we expect house prices to rise broadly in line with earnings (around 3%-4% per annum), though if the rate of house building fails to keep up with population growth, prices may outpace earnings once again, as they have in recent years.
As noted above, the UK housing market has been characterised by significant regional disparities in house prices in recent years and it is not clear how Brexit will impact these dynamics. Much will depend on the nature of the Brexit impact on the UK economy (in terms of its impacts on different sectors and the resulting geographic consequences)."
Jeremy Leaf, north London estate agent and a former RICS residential chairman, says: "These figures are not really surprising as they reflect buyers and sellers coming to terms not just with abolition of stamp duty for first-time buyers on the one hand but rising inflation and squeezed affordability on the other. There is no doubt that prices are softening in many parts of London as sellers appreciate that first-time buyers in particular are finding it difficult to raise deposits and meet lending criteria, although there is no sign of any larger or more substantial fall in prices at present.
The year has started quite promisingly in terms of new enquiries and valuations but we don't expect to see any fireworks in terms of what happens with property prices, certainly in the first few months of 2018."
Jonathan Harris, director of mortgage broker Anderson Harris, says: "The majority of first-time buyers who come to us have some sort of financial assistance from the Bank of Mum and Dad. Getting the deposit together is still the biggest challenge for most first-time buyers and even a slowdown in property price growth is not enough to make the difference between being able to get on the property ladder or not, particularly in London. With Nationwide calculating that it would take the typical buyer around eight years to save for a deposit in most regions, rising to nearly a decade in London, that is a lot of saving that needs to be done, and may seem insurmountable for those also juggling higher living costs, poor savings rates and limited salary increases."
Jonathan Samuels, CEO of Octane Capital, said: "How the mighty have fallen. Not so long ago it would have been inconceivable for London to have been the only region not to have delivered positive returns in a calendar year.

It's been 13 years since London was last the weakest performing region, and the capital will certainly feel unlucky. London, without doubt, has been a victim of its own success. Prices reached absurd highs and it is now paying for its irrational exuberance.

2018 is likely to be a mirror image of 2017, with the property market held back to low single digit growth by no end of political and economic uncertainty. But longer term, this will be to the benefit of the market as a whole.The fact that it takes roughly eight years for the average buyer to save for a deposit, and 10 in London, underlines the affordability crisis many people face.

Saving for a deposit, in a low interest rate and wage growth environment, is nothing short of brutal. Prices won't fall in 2018 because of the continued lack of supply and low cost of borrowing.

The one real test of demand will be provided by the direction of inflation. Rising living costs can rapidly erode confidence."