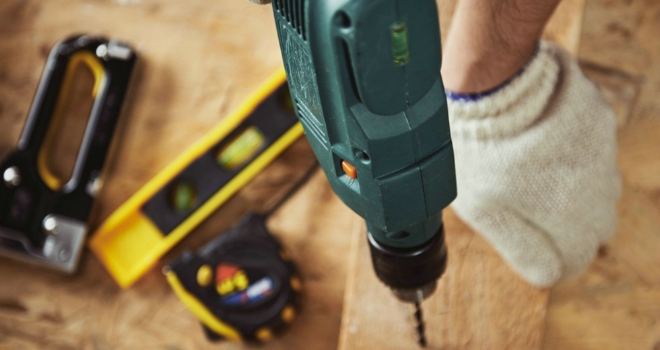 "Since the financial crash a decade ago, there has been an upturn in staycations and perhaps, this has now become a habit for many. "
New AA research reveals Brits are twice as likely to be planning DIY projects at home this summer (48%) than heading overseas for a family summer holiday by the pool (25%).
The AA Financial services poll asked 2,133 homeowners what, if any, home improvement projects they were planning and how much they were planning to spend.
Beyond wallpapering and decorating, the garden was the focal point for those looking to get major improvement projects underway. Just under one in four (23%) said they planned to get the garden landscaped and 12% were planning to build an outside dining area – to make the most of the summer evenings. Garden projects were a bigger priority the larger the family – 32% of couples with two or more children planning landscaping projects this summer, and 17% looking to build an outside dining area.
Fitting a new bathroom or toilet (16%) was next on the priority list – twice as popular a priority as fitting a new kitchen (8%) – although with both being disruptive projects, it was perhaps not a surprise that people wait until the summer to get them done.
When asked in total how much money they intended to spend on home improvements, 18% planned to spend more than £5,000 and 10% more than £10,000. In London 16% of respondents planned to spend £10,000 or more improving their home.
When it came to financing planned home improvements, 49% stated they would be raiding their savings to pay for their summer projects around the home. A further 42% said they would use disposable income, money many might have used for a summer holiday. For larger projects, 7% of those with a mortgage said they would add the home improvements bill to their mortgage.
David Searle, the AA's director of financial services, commented: "Since the financial crash a decade ago, there has been an upturn in staycations and perhaps, this has now become a habit for many. With the good weather at home, it is understandable why many families want to stay put during the summer months.
"The summer is also an obvious time to get those big home improvement projects done. Fitting a new kitchen or bathroom can be disruptive, especially so when done during bad weather.
"Irrespective of whether people are making home improvements to enjoy their home or in preparation to sell it, a significant proportion of people are adding the cost of these home improvements to their mortgage.
"This requires careful thought if you want to clear your mortgage early, but it does underline a mortgage is not just something to think about when moving house.
"Shopping around for a remortgage deal can make sound sense for people that are staying put – and many could save hundreds of pounds by swapping to a deal that better meets their needs and the way they plan their family finances."