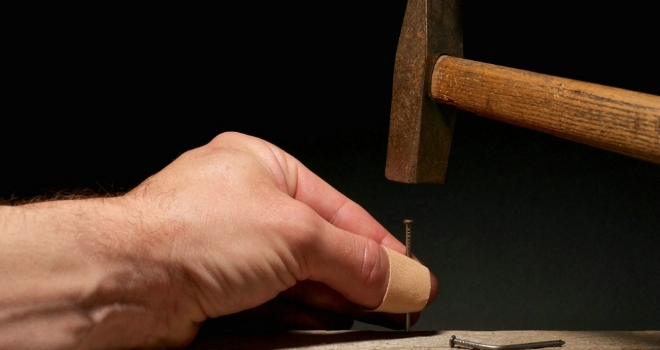 According to a new report from Plentific.com, 35% of UK homeowners have regretted the results of a DIY project and wish that they had called in a professional to handle it.
Since the UK voted for Brexit, the property ladder has remained unsteady. As a consequence, home improvements have become the more attractive option for homeowners, rather than uprooting and moving on. Depending on the size of the project, many attempt the work unsupervised in an effort to save money. However, according to Plentific's statistics, 1 in 3 find their results less than pleasing, and in retrospect, would have chosen to hire a specialist instead. Could this mean the demand for trade professionals can only continue to grow?

The younger generation struggle most with DIY, as half (48%) of those aged 18-34 said they have regretted their past results. This high percentage may be down to them being relatively fresh on the property ladder and having yet to gain the relevant experience in DIY. It seems 18-34 year olds would save time, effort and enjoy a more pleasing end result by hiring in a specialist.
Interestingly, Plentific's research found that Norwich (45%) and Newcastle (47%) have the highest percentage of homeowners regretting DIY projects in the UK, wishing that they had hired in a trade professional instead. Meanwhile, in the capital there are plenty of regretful DIY projects as 40% of London homeowners wish they had contacted a specialist instead. The majority of London homeowners admit that this has happened on more than two occasions, perhaps suggesting that the higher priced services in the capital are encouraging homeowners to resort to DIY solutions more often than they should. The city of Manchester has the highest rate of satisfactory DIY experiences, with 77% of homeowners never having an issue with their results. These stats show the variation of skills across the UK, and stress that despite certain cities being more DIY inclined, there is a demand for trade professionals nationwide.

Stephen Jury, spokesperson for Plentific, said: "Cases of regretful DIY projects are not unheard of, however these new statistics from Plentific show just how often they occur. It's interesting to see that half of the young homeowners have DIY regrets. In this current digital world, these statistics could highlight the lack of DIY knowledge in younger homeowners, and emphasise their lack of confidence when carrying out projects which their parents may have more success with.

Whilst struggling with DIY can lead to disappointing results, hiring in the wrong trade professional is just as likely to cause regret. Some homeowners have great difficulty in finding the best specialist for the job. We verify our trade professionals and ensure that projects booked through Plentific are completed to the highest standard with the Plentific Guarantee."