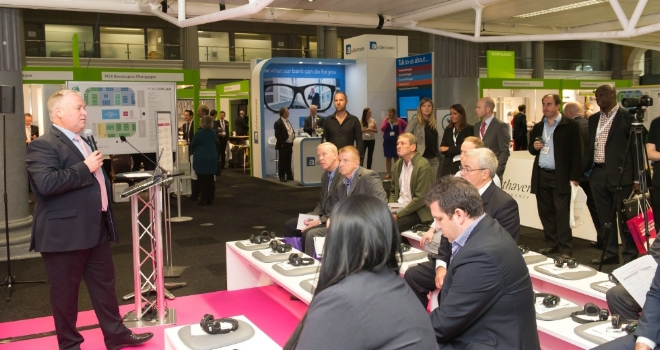 ""
Financial Services Expo Glasgow has today unveiled its seminar programme which has been designed to cover a large number of issues including the Mortgage Credit Directive, developments in the market, and buy-to-let.
FSE Glasgow will be held once again at the Hilton Hotel in Glasgow on Wednesday 16th March and will provide visitors with access to over 40 exhibitors including lenders, distributors, networks, insurance providers, technology companies. Many property experts are expected to turn up and take advantage of the valuable insight the event gives into the lucrative buy-to-let and bridging markets, as well as hearing what financial products are available at the moment.
A series of seminar presentations has been put together by the Association of Mortgage Intermediaries and Financial Reporter and covers mortgages, buy to let, protection, insurance, and retirement lending, as well as a regulatory update. Speakers from a number of high-profile lenders and providers will be providing the CII CPD-accredited sessions.
Alistair Ewing of The Lending Channel will open the day by exploring the topic of the moment, the effects of the Mortgage Credit Directive on second charge lending, followed by a panel debate featuring Alistair and speakers from Brightstar Financial, Masthaven Finance, and Shepherds Surveyors.
These will be followed by a look at the protection market from Johnny Timpson of Scottish Widows, an honest discussion about equity release by Gary Webster of Equity Release Supermarket, and a buy-to-let session from Rob Barnard of Aldermore Bank.
The final session will be a regulatory update – speaker to be confirmed – which will look at how intermediaries can stay compliant in 2016 amid changing market regulation.
As well as the main seminar theatre, Shawbrook Bank will be running its own Academy at FSE Glasgow hosting a number of specialist lending seminars from a variety of industry experts.
James Prosser, Director of Front Events, organisers of FSE Manchester, commented: "We're very pleased, as always, to have a number of industry experts providing their analysis of the big issues in financial services this year, and we look forward to a busy and productive day.
On top of our main seminar theatre we once again have the specialist lending seminars offered by Shawbrook Bank at FSE in 2016 – we're delighted that they are joining us again and urge our delegates to make the most of the range of informative sessions on offer.
FSE Glasgow promises once again to be the must-attend event in Scotland for advisers. With the quality of both our seminar and exhibitor offering, we believe a visit to FSE on the 16th March will provide a fantastic level of support and information which will help intermediaries develop their propositions for the rest of the year and beyond."
To register for the event click here