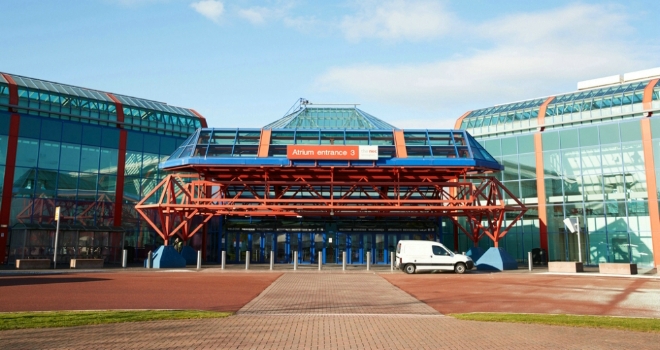 The Build Show, sponsored by Easy-Trim, is set to return to Birmingham NEC in just under six weeks. From 10-12 October, 400 market-leading exhibitors will showcase the most pioneering products, services and working practices in construction to an anticipated 35,000 visitors.
The Build Show, sponsored by Easy-Trim, is the industry meeting place to learn, network and experience new products first hand. Running as part of UK Construction Week, every type of product is represented, such as windows, doors, decking, insulation, modular housing, tools, roofing and even drones.

Here are just a few examples on what will be showcased at this year's show.

Headline sponsors, Easy-Trim will pose a question to visitors: Why Gamble? In addition to revealing new ventilation, construction and ancillary products on their stand, Easy-Trim will be offering various giveaways and discounts for orders placed during the show, with a star prize including a holiday to the world's gambling capital, Las Vegas.

Wernick Group is the largest independent hirer and manufacturer of modular and portable buildings in Britain, with 35 depots and divisional offices nationwide. At the show, the company will present its new PMflex™ Modular System, a new building system which can be supplied up to five-storeys in height and is the ideal solution for clients who want a high-quality building on long-term hire. In addition to Wernick Group, the show will also feature other offsite specialists including Portakabin, Tufeco, and Containex.
BA Clic Components will showcase its ClicBox carcass concept, which will appeal directly to a broad range of clients such as kitchen fitters, builders, merchant groups and developers due to the fact it can be constructed in 30 seconds. It aims to revolutionise the way the kitchen manufacturing and construction industries do business through saving time and money.

Non-combustible, stone wool insulation is a critical component in creating safe, fire resilient buildings. Making its debut the show, ROCKWOOL will focus on its range of solutions, capabilities and substantial expertise in delivering effective insulation that successfully meets this pressing industry requirement. The ROCKWOOL stand will feature samples from the company's extensive range of non-combustible solutions for fire protection and fire stopping, rainscreen, flat roofing and sound insulation applications. Products on display will include its ventilated façade systems, such as, RAINSCREEN DUO SLAB® and ROCKPANEL Cladding panels, its HARDROCK® Multi-Fix Recovery Board, its popular Sound & Thermal range for the home as well as specialist, HVAC, fire protection and fire stopping insulation products.

Festool is also back with its recently launched Mitre Saw KS60 and long reach sander, The Planex Easy, while the company's full autumn launch of products will be on demonstration at the show.

VELUX Modular Skylights and flat roof products are innovative glazing systems for commercial buildings. On display at the show, these prefabricated modules uniquely combine minimalistic design and advanced technology, enabling users to realise their project quicker and safer – without having to compromise on quality or design.

Knauf Insulation is the only manufacturer to offer glass and rock mineral wool HVAC solutions. Displaying duct roll, slab, pipe section and fire rated ductwork, the company will be bringing its latest products to the Build Show, sponsored by Easy-Trim.

Screwfix is the official UKCW café sponsor at this year's show, and will showcase new and innovative products, while their expert team will be on hand to answer any questions such as trade accounts, business to business support and ex-VAT catalogues. You will also have a chance to take part in its competition and interact on their Itab.

Bostik, the global adhesive specialist in industrial manufacturing, construction and consumer markets will preview the new Bostik Roll - a solvent-free adhesive strip that has been specially designed for the fast installation of skirting and other floor or wall mounted accessories.

Revolutionary door handle fitting system, Jigtech, will exhibit at the show as well as host its 'Jigtech Challenge' on 12 October. Visitors will compete to fit a set of Jigtech door handles in record time using the company's new revolutionary system for a chance to win the Honda CBR 650F, worth £7,500.

Kiwa UK carry out testing and certification on appliances, construction materials, electrical and water products, and at the show the team will invite visitors to test a wide range of sample slides using its electron microscope. This is a great opportunity for people to attend a "Look and Learn" session, as well as book themselves for lunchtime Q&A sessions on a variety of topics with Kiwa UK's expert team.

Other exhibitors attending the show include Kidde Safety, Finning CAT, Hewlett Packard, and Gripple.

Nathan Garnett, Event Director at Media 10 who runs the show said: "This year's show is set to be our most significant yet. Visitors will find the latest products and services on display from a range of exhibitors set to transform and change the future of the sector, while our programme will bring together the best of the industry to debate, inform and educate visitors on the construction agenda. Not only that, but we'll also be hosting unmissable opportunities for networking and socialising."