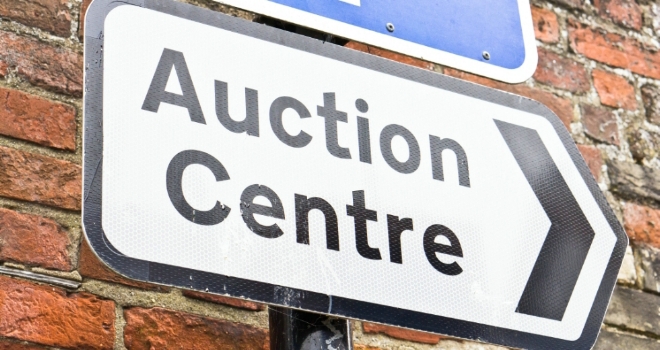 Auction House is reporting the second-best month in the ten year history of the company, despite the downturn in the private treaty market.
February saw an impressive 466 lots sold from 602 offered – a success rate of 77.4% - which raised a total of £57.7m in the process.
Roger Lake, Auction House Founding Director said; "These figures mark a strong start to the year that bodes well for the coming months. Normality seems to have returned to the auctions market, sales rooms are busy, and careful guide prices are generating enthusiastic bidding. From our perspective, auctions genuinely seem to have weathered the storm.
All this is in marked contrast to the private treaty market where estate agents are reporting a shortage of stock, and sales are continuing to struggle. But here in the auction sector, more private sellers are coming our way, corporate clients are giving us increasing amounts of stock, and commercial lots are back in demand."
Roger says that the auctions market across the country seems to have recovered from the impact of the 3% Stamp Duty surcharge for landlords and second home owners, which came into force last April.
He explained: "Sellers are keen to choose the speed and certainty of the auction method and buyers are genuinely eager to purchase. We are assisting more people buying for their own occupation – such as first-time buyers and improvers – who are helping to move auctions into the main stream.
Plus more investors are choosing to buy commercial lots whilst others still see worthwhile returns in the buy-to-let sector, where rising rents are strengthening yields in many regions. Overall, auction lots are already back at normal volumes and nothing that the Chancellor said in his Spring Budget on Wednesday gives us particular cause for concern."
Auction House also has plans to expand in 2017. The group is opening a new sales room in Peterborough, Cambridgeshire – an area not previously well-served by auctioneers, and where an auction is now scheduled for 7 April. In addition, the brand is going to hold its first ever auction in Exeter, Devon - with a planned sales date of 27 April.
Roger added: "All in all, this is another excellent set of figures for the company. Our position is strengthening, and we fully expect to build on this early momentum as we push to grow activity further."