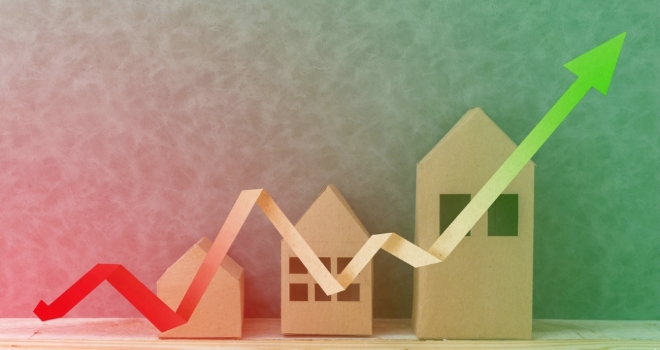 The latest report from Home.co.uk has revealed that the slump in the capital's housing market continues to weigh heavily on the national annualised growth figure.
According to Home.co.uk, over the course of most of 2017, this braking effect has been countered by price growth in the country's most vigorous regional property markets (both the East and West Midlands, Yorkshire and the North West).
Of course, seasonal expectations come into play at this time of year and month-on-month declines are the norm. In fact, over the last month prices fell in all of the nine English regions and in Scotland but not Wales.
However, a worrying observation that is not consistent with seasonal expectations is a significant jump in new listings of property for sale (11%, Nov 2017 vs. Nov 2016).
Indeed, should the trend continue, Home warns that such a rapid rise in supply would lead to rising stock levels as demand becomes overwhelmed. Such an event would transform the current benign stagflationary conditions into a destabilising deflation in home prices.
The concomitant decline in available rental properties suggests that the cause may be that landlords are exiting the Private Rented Sector. Such has been the rapid increase in taxation and regulation in the sector, this would hardly be surprising. The clear and present danger, of course, is that this initial trickle of increased supply becomes a flood.
However, any such increase in supply is likely to be localised to low-yielding properties that have, partly through government intervention, become loss-making. Hence, such areas will be restricted to marginal (overbought) areas where yields can be as low as 1% or 2% and/or rents are in decline and voids are rising.
The converse will be true of the UK's most dynamic regional markets. Substantial rent rises (over and above the rate of inflation) are evident in both the East and West Midlands and the North West (up 9.6%, 4.9% and 5.5% respectively YoY). Moreover, home prices are also rising fast.
The combination of both increasing home values and rents, together with decreasing marketing times, indicates that these regions will continue to outperform and not suffer a wave of oversupply in the near future.
Despite this dark cloud on the horizon, for the moment, the UK property market is stable and stock levels remain relatively low overall, although some regional variation does exist. Home.co.uk will be keeping a close eye on Typical Time on Market, a key forward indicator, throughout 2018.
In Dec 2016, the annualised rate of increase of home prices was 3.4%; today the same measure is 2.6%.