November sees annual house price growth ease to 3.9%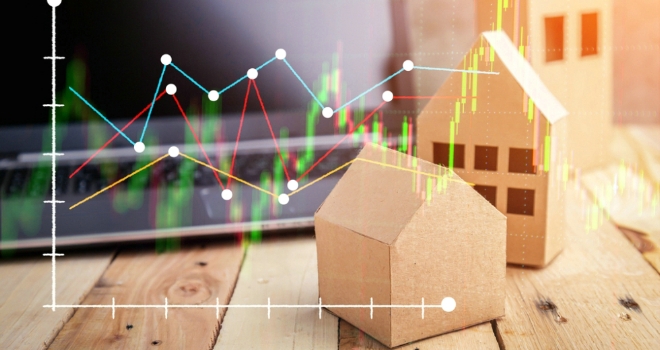 According to the latest data and analysis from Halifax, house prices in the last three months (September-November) were 2.4% higher than in the previous quarter (June-August). This is the fastest price growth, on this measure, since January.
Prices in the three months to November were 3.9% higher than in the same three months a year earlier although the annual change in November was lower than in October (4.5%).
House prices rose by 0.5% between October and November, following a 0.3% increase in October marking the fifth consecutive monthly rise. The average price of £226,821 is 3.2% higher than in January (£219,741).
Russell Galley, Managing Director, Halifax Community Bank, said: "Whilst the annual rate of growth eased in November, with the first decline in this measure since July, when looking at quarterly change prices in the three months to November were marginally higher than in the preceding three months; the fourth consecutive quarterly increase..
The imbalance between supply and demand continues to support house prices, which doesn't look like changing in the near future. Further ahead, increasing affordability issues, as price increases continue to outstrip wage growth, are likely to curb housing demand and cause price growth to ease. We do expect the Government's first-time buyer Stamp Duty changes to provide some stimulus to demand, particularly in London and the South East where the impact is greatest."
Russell Quirk, founder and CEO of eMoov.co.uk, commented: "A fifth consecutive increase in monthly house price growth certainly makes positive reading given the current market climate, particularly during a traditionally slower time of year as we approach the festive season.
That said, the market is showing signs of winding down with a decline in mortgage approvals and sale instructions. This would suggest the last call for property sales in 2017 has been made, but with sales reaching their highest level this year, there are still plenty looking to complete this side of Christmas which will keep things ticking over.

The market should continue to build on this momentum after the December lull and the outlook is promising for the coming year.

As the issue of supply is unlikely to be addressed in any meaningful way the lack of stock to meet housing demand should keep prices buoyant, aided by the recent changes to first-time buyer stamp duty, although this will bring a marginal influence much further down the line than widely expected."
Jonathan Samuels, CEO of the property lender, Octane Capital, said: "The improved performance of the market in the latest quarter suggests the first interest rate rise in a decade may have ignited demand.
On this evidence, the November rate rise has brought prospective buyers out into the open rather than sent them underground. Many buyers may have come to the conclusion that it is better to move now while mortgage rates are still low than further down the line when they could be less competitive.
Ongoing Brexit-related uncertainty will also be a factor for many households. It's hard to know how things will pan out and against that backdrop moving now will be seen as the better option. Despite the slight pick-up over the past three months it's hard to see prices rising materially. A slow rate of growth is the most likely for 2018."
Alex Gosling, CEO, online estate agents HouseSimple.com, says: "These figures suggest a housing market in remarkably good health, but low supply levels continue to distort the real picture.

The property market's not on its knees by any means, but it needs a spark from somewhere. Market activity has dropped off, which it tends to do the closer we get to Christmas. But it's definitely dropped off earlier than normal this year.

Buyers are viewing, but when the same properties are coming up on searches every week, and very little new stock is being listed, there's not a great deal of enthusiasm to take it beyond the viewing stage. Hopefully the Chancellor's Budget decision to cut stamp duty for first-time buyers will give the bottom end of the market the energy boost it desperately needs.

But if homeowners further up the chain aren't selling, there won't be enough affordable properties coming onto the market. And the Government's plan to build more affordable homes isn't going to solve the supply crisis today.

The property market will be glad to see the back of 2017 - a year when it has had to cope with Article 50 being invoked, a calamitous General Election, a rate rise and a constant stream of negative Brexit news. Roll on 2018."
Join our mailing list: